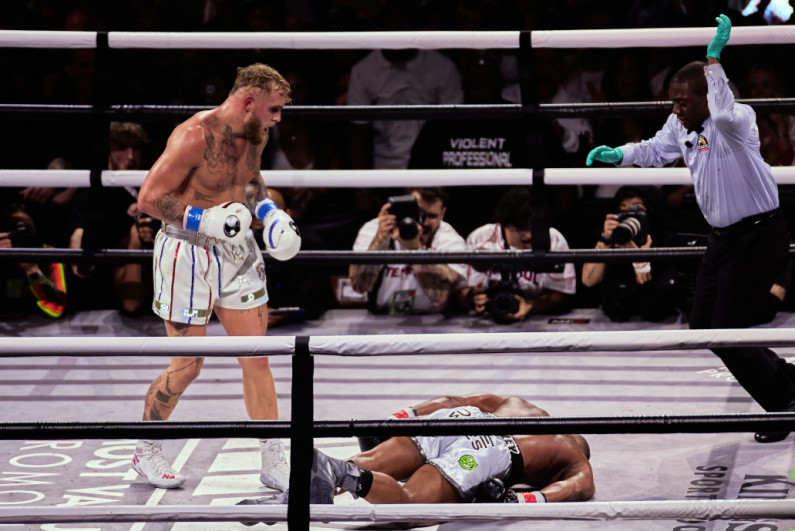 Dillon Danis has challenged Jake Paul to a fight, promising to retire and give $2,000 to everyone who liked his social media post if he falls unconscious. [Image: Shutterstock.com]
A call
Despite losing to YouTube star Logan Paul in a boxing match, Dillon Danis has now challenged his opponent's brother, Jake Paul. Danis suggested a fight on X (formerly Twitter), offering to retire and give $2,000 to anyone who liked the post if Jake Paul knocked him out:
The New Jersey native lost by disqualification in the co-main event Saturday night during the Misfits Boxing Prime card in the bout that preceded the fight between Tommy Fury and KSI. Ahead of the event, which involved Danis and the older Paul brother, the two spread a lot of trash talk on social media. A lot of it turned nasty when Danis said some terrible things about Paul's fiancée Nina Agdal, to the point that Agdal got a restraining order against him.
Not a close competition
In the fight itself, Paul tried everything to score a big knockout, and Danis barely managed to land a punch in the six rounds. In the final seconds of the fight, an all-out brawl broke out and Danis was disqualified for attempting to strangle his opponent via a guillotine choke. Paul had done enough at this point to win on points.
There was also a fight in the ring after the fight on Saturday evening, with members of both fighters' entourage becoming involved in the scuffle.
Jake Paul was in attendance Saturday night and took to social media to say that Danis "talked so much shit and is one of the worst fighters I've ever seen," leading to Danis issuing a challenge to younger Paul- Brother. He's still waiting for an answer.
Attract a lot of attention
Celebrity boxing has taken off in recent years. Saturday's event was reportedly on track to draw record-breaking viewers; Pay-per-view purchases are $54.99. One of the interested spectators was superstar rapper Drake.
Bet $850,000 on Logan Paul to win the fight by knockout
The Canadian native bet $850,000 on Logan Paul to win the fight by knockout, which would have netted him $1.3 million. Danis' disqualification means Drake came away empty-handed, and he already had a reputation for being unlucky with many of his big bets losing. He has a partnership with online gambling platform Stake, where he lost $8.5 million during a sponsored gambling livestream.