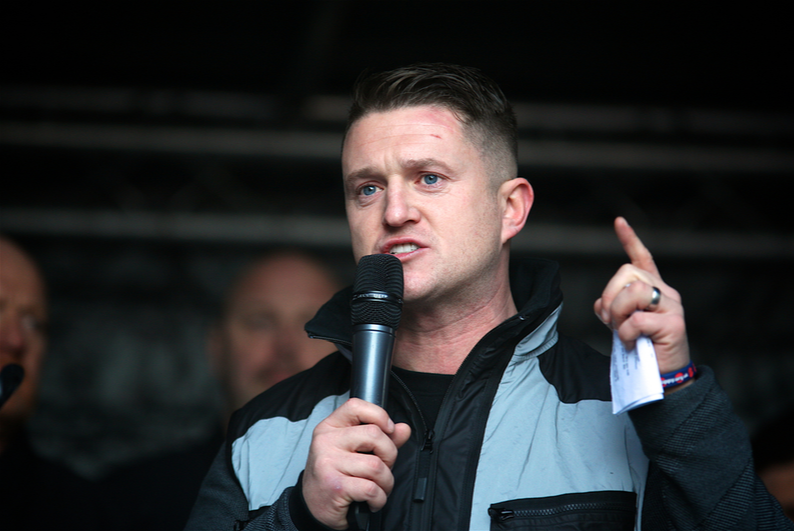 English Defense League founder Tommy Robinson revealed that he spent £100,000 gambling before declaring bankruptcy. [Image: Shutterstock.com]
In a deep hole
The English Defense League (EDL) founder has revealed in court that he gambled away £100,000 ($123,824) at the same time as accepting donations from supporters. Tommy Robinson, whose real name is Stephen Yaxley-Lennon, appeared in the Royal Courts of Justice in London on Thursday in order to provide evidence on his financial situation following his loss in a libel case.
has to pay damages worth £100,000
After a court found him guilty of defaming a Syrian teenager online, the 39-year-old has to pay damages worth £100,000 ($123,824). Jamal Hijazi was the victim of an assault at a school in Huddersfield back in October 2018. A video of the incident ended up going viral, with Robinson making false claims on social media about the teenager.
A judge ordered Yaxley-Lennon to pay £43,293 ($53,607) in legal costs at the pre-trial hearing. However, because he has not yet forked up this cash, the EDL founder must go through another court hearing to discuss his finances.
Dire financial straits
In court, the far-right activist outlined how he declared bankruptcy in March 2021, owing hundreds of thousands of pounds. Prior to this point, he said he spent approximately £100,000 ($123,824) in a two-year period gambling online and at land-based casinos. Despite accepting significant sums of money through donations from supporters, he admitted to spending a lot of money on drinking and partying.
owes a six-figure sum to Her Majesty's Revenue and Customs
In 2020, Robinson consistently received around £1,000 ($1,238) each month from his supporters, with the sum sometimes rising as high as £4,000 ($4,953). One of the bankruptcy form claims stated that Robinson owed £323,000 ($399,950) to a Bedfordshire businessman. The pair's relationship had turned for the worst and Robinson was unable to pay back his borrowings. He also owes a six-figure sum to Her Majesty's Revenue and Customs.
A figure controversial
Robinson is no longer living in the UK and only returns if there is a work opportunity.
As reported by the BBC, court officials questioned him regarding claims in his book from 2009 in which he said that he owned seven properties, six of them being in the name of his wife. In response, Robinson confessed that he had song about the properties, concluding:
I like to give off that I am a successful man when I am not."
Robinson started the EDL in 2009. It has since been labeled an Islamophobic far-right group, holding many street demonstrations over the years across the country. Robinson left the organization in 2013, claiming that it had become too extreme.