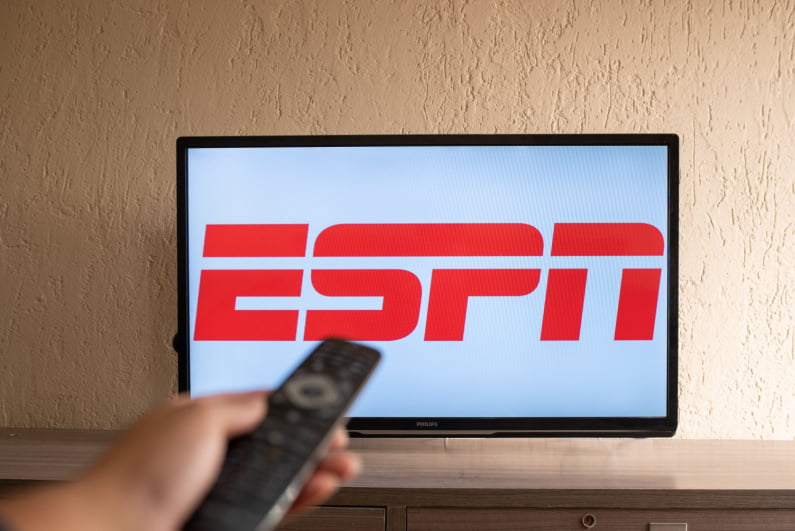 PENN Entertainment has announced that ESPN Bet will launch in 17 states on November 14th. [Image: Shutterstock.com]
Specific schedule
ESPN is the latest big name to enter the US sports betting scene, and its upcoming online sportsbook has been highly anticipated. PENN Entertainment, which will operate the offering, said in its third-quarter earnings report on Thursday that the new platform will officially launch in 17 states on November 14. This simultaneous launch will occur as long as there are no last-minute regulatory issues.
The most notable markets where ESPN Bet is launching include Arizona, Massachusetts, Illinois, New Jersey, Pennsylvania and Ohio. One of the major states that won't be getting ESPN Bet any time soon is New York, as PENN never applied for a license in the Empire State due to the high 50% tax rate.
The launch occurs the week before Thanksgiving
The wide-ranging launch comes the week before Thanksgiving, a time when many big games in both the college and professional sports scenes take place in the United States. One of the highest-profile matchups of this era will be the Nov. 21 NFL game between the Philadelphia Eagles and Kansas City Chiefs, a rematch of Super Bowl LVII.
Use of the ESPN name
The technology powering ESPN Bet will be the same that PENN-owned theScore Bet uses in Ontario. The new sportsbook's features include match betting, micro markets and prop betting.
Disney-owned media giant ESPN will help drive awareness of the launch through various integrations for its over 200 million fans across various media. This includes a new advertising campaign featuring SportsCenter hosts Elle Duncan and Scott Van Pelt. Further campaigns are being planned for the coming months to attract as many customers as possible.
will ensure ESPN receives $1.5 billion in cash over a decade
PENN Entertainment has a licensing agreement with ESPN that replaces its existing sports betting offering with the Barstool brand. This new deal gives ESPN $1.5 billion in cash over a decade and the option to acquire an equity stake in PENN. PENN has the option to exit the deal after years three and seven if it fails to capture a certain market share.
A competitive market
The US sports betting sector is already highly competitive; numerous providers have already withdrawn from the market or merged with other brands in recent years. Due to high customer acquisition costs, only a few large operators dominate the market. FanDuel is currently the frontrunner in this space, closely followed by DraftKings, with BetMGM a distant third.
ESPN has already integrated odds into its broadcasts and is currently running a number of betting-themed shows.
While it only controlled about 5% of the market with its Barstool-branded sportsbooks, PENN Entertainment CEO Jay Snowden hopes ESPN Bet can capture up to 20% market share by 2027.