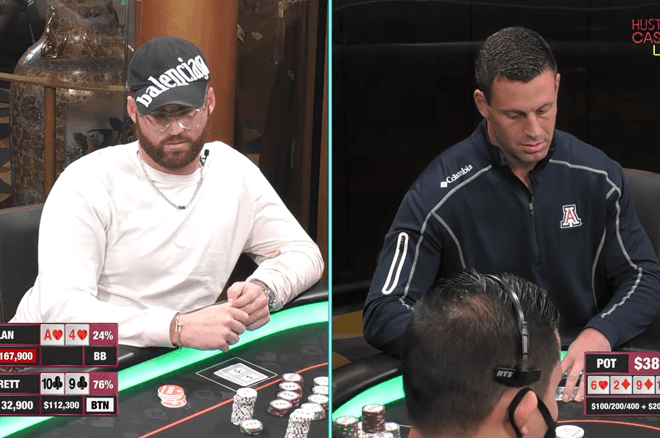 One week after Dylan Gang infamously slow-rolled Garrett Adelstein on Hustler Casino Livethe latter got some revenge in the form of a $390,000 pot Friday night.
the $100/$200/$400 no-limit hold'em live stream had been hyped up on social media and it lived up to its billing, especially for Adelstein's fans. Play began at 3 pm PT with the stream starting at 5 pm, and there was some early flexing going on between the two poker players.
Adelstein bought in for $100,000 initially and Gang, clearly attempting to cover him in response to "G-Man" doing the same last week following the slow-roll hand, sat with $101,000.
Run it one time
Shortly after the full table game kicked off, Adelstein tacked on an extra $150,000 and had everyone at the table covered by bunches. Gang, who certainly didn't make any friends among the heavily pro-Garrett Hustler Casino Live viewing audience last week, would eventually top up a bit as well.
That said, there wasn't much of a verbal confrontation between the high-stakes players on Friday. Adelstein, considered by many one of the classiest players in the game, made it clear on social media over the past week that he considered the slow-roll "inconsequential." But that didn't stop the fans from eagerly anticipating a clash with Gang, and they got exactly what they were looking for a few hours into the live stream.
Garrett opened to $1,200 on the button with
and Dylan three-bet to $6,500 from the big blind with
, which didn't convince his opponent to fold. They both saw a flop of
and the preflop three-bettor continued his aggression, wagering $4,500 with nothing but ace-high and a backdoor flush draw.
The button hand (top pair), of course, wasn't going anywhere and raised it up to $20,000. Gang made the call hoping to pick up some equity on the turn, which he did when the
appeared. That gave Adelstein top two pair, and he bet $35,000 after the big blind checked.
Gang, chasing a flush, went for a semi-bluff all-in for $167,900. Adelstein stood up from his seat and asked for a chip count before deciding he couldn't fold with such a strong hand. With $389,500 in the pot, nearly 1,000 big blinds, Adelstein announced he wanted to run the river just one time, his usual request.
The river was a meaningless
, and the pot was shipped in the direction of the Southern California high-stakes poker legend. Gang quietly exited Hustler Casino down around $200,000 for the session.
That likely won't be the final battle between these two poker players, but Round 2 went to Adelstein in a big way. He sent out a bit of a cryptic message without mentioning Gang in a tweet following the massive pot.
"How people treat you is their karma; how you react is yours." -Wayne Dyer
Adelstein ended the session up a bit more than $200,000. In his post-game interview, he said there are no hard feelings with Gang and that he hopes his foe will come back "ready to battle" in the future.