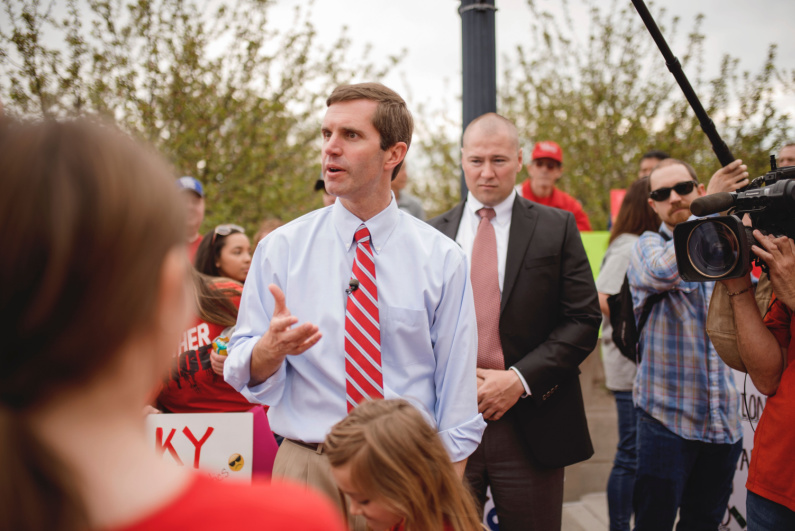 Kentucky Gov. Andy Beshear, who has fought for so long to bring mobile sports betting to the state, says bettors are "enjoying it." [Image: Shutterstock.com]
Big sum bet
What Kentucky Gov. Andy Beshear envisioned in the years he fought to push mobile sports betting into the state has come true: big-dollar bets and "the dollars are here to stay."
On Friday, Gov. Beshear X said bettors placed a total of $68 million in bets from Thursday to Sunday:
According to the governor, the $68 million in four days was the combined revenue from retail and mobile sports betting. On the latter, the Kentuckians bet $66.5 million in their debut.
LEX 18 cited figures from the governor's office that customers have opened 300,000 betting accounts with legal mobile sportsbooks so far.
Wanted it for so long
"We finally did it!" Beshear honked in March after HB 551 won Senate approval late on the final day of the 2023 state General Session, paving the way for its market debut last week. For Kentucky's leading sports betting cheerleader, the early numbers must feel like sweet validation that he helped get HB 551 over the finish line.
Beshear added Friday that the response was larger than expected but that it shouldn't surprise anyone "because Kentuckians have wanted this option for so long."
Now, nearly four years later, Beshear has realized his goal and bettors in the state are "really enjoying it."
How right it was to pass it."
The governor's main mantra has always been that sports betting will bring much-needed tax dollars to state coffers. After the opening salvo in Kentucky, Beshear said the best part was that all tax dollars stayed in the state and "supported our pension system and other needs."
"How right it was to pass it," Beshear reflected Friday.
Practical governor
Another takeaway from Kentucky's debut weekend is that the governor appears to be as familiar with practical sports betting as he is with the legislative aspects of the industry.
"I still have a chance to win the first-ever sports bet," he said, referring to the $20, three-game college football season he completed last month as Kentucky's retail market came online. Beshear was betting that both the University of Louisville and University of Kentucky football teams would win more games this year than sportsbooks predicted, and that Duke would go in the opposite direction.
"UK and U of L are 5-0, and Duke has started tanking," the governor claimed Friday.