From June 28, 2022, Ontario based PokerStars players have been required to migrate their account to the new PokerStars Ontario platform. The process may seem daunting at first but just takes a few moments and follows an easy going process. This is mandatory for all Ontario account holders.
All you need to do is follow this simple step by step guide and you'll have your PokerStars Ontario account setup in next to no time at all.
One last thing before you undertake the below instructions, just know that your account balance is protected. All funds, tournament cash, tournament tickets and Star Coins will be converted to Canadian dollars and will be automatically added to your Ontario account.
Migrate Your Account Now
19+ Gambling can be addictive, please play responsibly.
Step One: Log in to Your PokerStars Account
Access your PokerStars account as you usually would and then a message will appear explaining that Ontario based players will now need to play on on.pokerstars.ca.
Simply read the pop up and once you've finished, proceed to the next step by clicking the "Okay, move to on.pokerstars.ca" button.
Everything You Need to Know about PokerStars Ontario
Step Two: Confirm Login Details

A confirmation screen will then pop up and this just details that you will still use the same log in details to continue using your account.
Step Three: Confirm Account Migration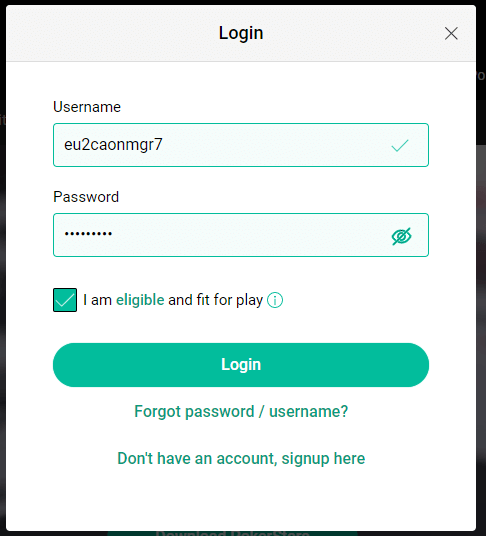 You can then either log out of PokerStars, or proceed on to on.pokerstars.ca to confirm that you would like to migrate your account.
Once you enter you log in details again, the PokerStars Ontario software will automatically update and be good to go. Mobile users should note that they'll need to download the PokerStars Ontario app. Then log in to the new Ontario site.
Best Legal Online Poker Rooms in Ontario
Step Four: Accept New Agreements and Policies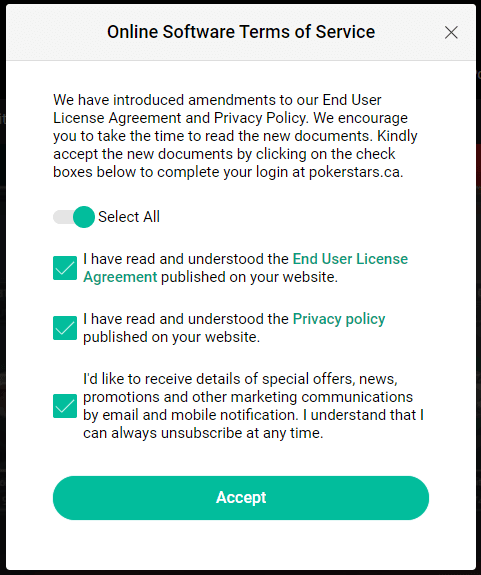 You'll then be asked to accept the new End User License Agreement other Privacy Policy. Make sure to have a read of that before checking the boxes the wish you to tick, or you can simply press the select all slider.
All you need to do then is click accept and you've completed to final step in opening your account.
Step Five: Verify Your PokerStars Ontario Account
The last step is an easy one, as you just need to verify your Ontario account which is a piece of cake. You can do this via a host of documentation such as:
Utility bills
bank statements
Insurance documents
Correspondences from local authorities
Letters from financial institutions
A comprehensive list of accepted documents can also be found here.
Lex Veldhuis: Three Tips for Starting Out at the Micro Stakes
Eligible iGames conducted and managed by iGO are only available to those physically present in the Province of Ontario. PokerStars operates pursuant to an agreement with iGaming Ontario.
For more information, visit the Ontario Player's home page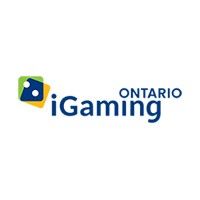 This is an advertisement
PokerStars Ontario Migration FAQs
Is it legal to play poker online in Canada?

Across Canada's 10 provinces, you can play online poker from the operators which have gained a license to operate.

However, for the players, it is legal to play online poker across the ten Canadian provinces.
Is it legal to play poker online in Ontario?

Beginning on the 4th of April 2022, this is when online poker became regulated.

For those companies which have had their license accepted such as PokerStars Ontario, you are legally allowed to game using this software and platforms.
What are the tax implications of the PokerStars migration?

In Canada, an individual's online gambling winnings wouldn't be seen as taxable income from someone who plays online as a hobby. However, an individual's gambling activities may result in taxable business income or a business loss under certain circumstances.

The best course of action would be to get tax advice from a trusted tax advisor to know whether or not you could be seen as carrying on a gambling business and generating taxable business income or loss.
How do I verify my PokerStars account?

You can verify your PokerStars account using a range of documents that include, utility bills, bank statements, insurance documents, correspondences from local authorities and letters from financial institutions.

A complete list of accepted documents can also be found here.
Can I continue playing with friends/other people in different countries?

No. Players in Ontario are only able to play against other players based in Ontario. Shared global liquidity is currently unavailable.

However, Play Money-only players still are able to play online against people in different countries.
Can I log in if I'm visiting another country?

No. You'll only be able to log in and play while located and residing in Ontario.
Can I keep my old PokerStars Canada account?

No, once you complete the migration you'll no longer have access to .NET.
Do I have to migrate my account to PokerStars Ontario?

yes From June 28, 2022, Ontario based PokerStars players have been required to migrate their account to the new PokerStars Ontario platform. This is mandatory for all Ontario account holders.

Editor & Live Reporter

Calum has been a part of the PokerNews team since September 2021 after working in the UK energy sector. He played his first hand of poker in 2017 and immediately fell in love with the game. Calum's proudest poker achievement is winning the only tournament he has ever played in Las Vegas, the prestigious $60 Flamingo evening event.