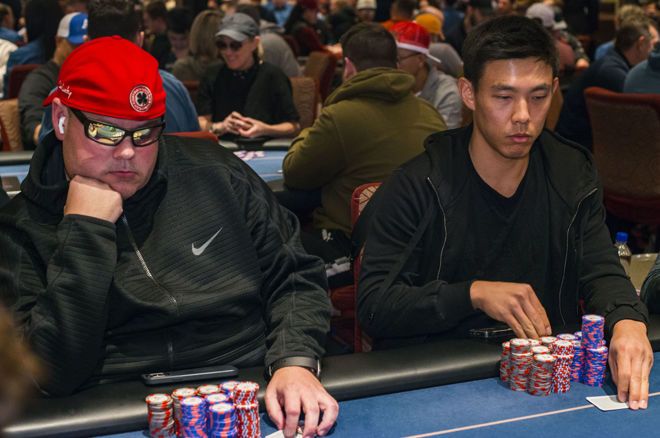 They started the day as the top two stacks, and they ended the day with the top two stacks.
brian kim other Mike Vanier remain atop the World Poker Tour Five Diamond World Poker Classic $10,400 Main Event chip counts with just 30 players remaining entering the penultimate day of play Saturday.
While Kim and Vanier entered the day as the only players over one million chips, they're joined over the two million mark by the exciting Ren Lin other WPT Champions Club member Chad Eveslagewho is one of just two former WPT champions left in the field, along with Pete Chen.
2022 WPT Five Diamonds World Poker Classic Day 3 Top Ten Chip Counts
| PLACE | SURNAME | CHIP COUNT | BIG BLINDS |
| --- | --- | --- | --- |
| 1 | brian kim | 2,330,000 | 155 |
| 2 | Mike Vanier | 2,290,000 | 153 |
| 3 | Ren Lin | 2,195,000 | 146 |
| 4 | Chad Eveslage | 2,020,000 | 135 |
| 5 | Dan Colpoys | 1,550,000 | 103 |
| 6 | Ralph Perry | 1,420,000 | 94 |
| 7 | Matthew Su | 1,215,000 | 81 |
| 8th | Justin Bonomo | 985,000 | 65 |
| 9 | Amir Lehavot | 920,000 | 61 |
| 10 | Long Tran | 895,000 | 59 |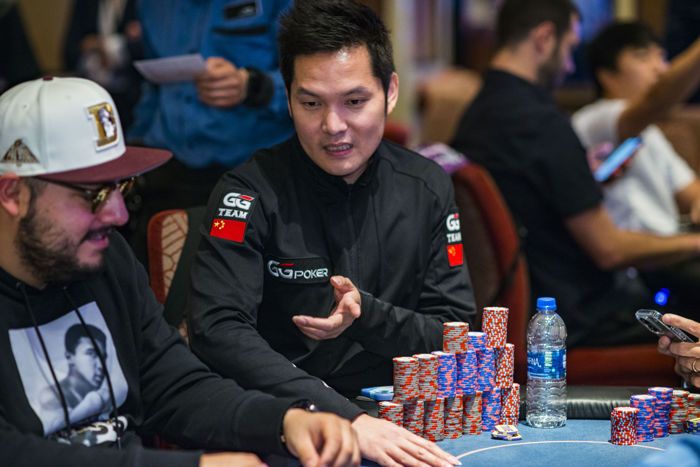 Status Quo at the Top But Lin is Lurking
Kim and Vanier kept their spots atop the leaderboard all day long, with neither falling below third in chips before finishing right where they started. Vanier could have had Kim's spot atop the standings to end the night had it not been for a couple of late bumps in the road.
The first came when Vanier doubled up Michael Gathywho got the last of his chips in with
on a
flop versus Vanier's
.
Gathy turned a spade flush draw with the
then made Broadway with the
on the river to survive into Day 4 with 670,000 chips.
Vanier's second bump would come shortly after versus Eveslage (details coming up).
The only other player seen with the chip lead Friday was Lin, who passed Kim and Vanier briefly midway through the day before finishing the third day, just behind them.
Lin passed the two million chip mark in the last level of the day when he won a flip to eliminate Paul Jaeger in 32nd place with pocket jacks versus Jager's preflop shove with ace-queen.
Lin told PokerNews at day's end, "It's been a great tournament. I got lucky a couple of hands today."
With a WPT title within his sights, Lin was asked what winning the tournament would mean to him to which he replied, "ooooh, I just couldn't believe it. That would be crazy."
Just Two Champions Club Members Left
While the top three players on the leaderboard started at or near the top and stayed there all day, the player who made the biggest move on Day 3 was Eveslage, the 2021 WPT Venetian champion.
He began the day with one of the shorter stacks in the room with just 199,000 chips but picked a great day to go on a heater, running that stack up to 2,020,000 for Day 4.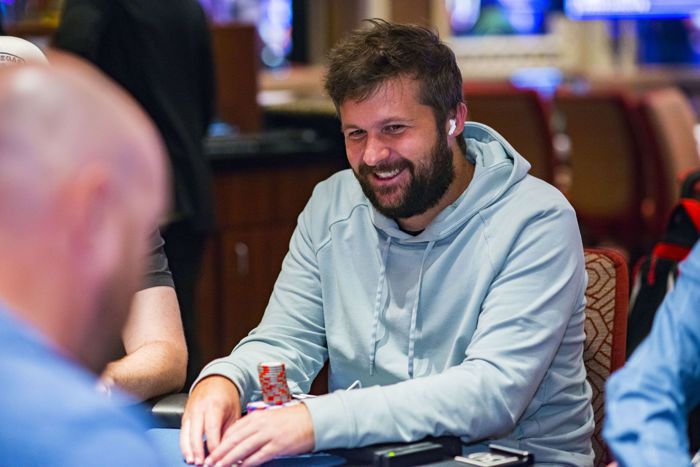 As mentioned earlier, Eveslage was the beneficiary of a second bump in the road for Vanier at the end of the night.
After Eveslage three-bet preflop in the cutoff, then called a cold four-bet from Vanier in the big blind to 215,000, Eveslage called a 150,000 chip continuation bet on a
flop Vanier then check-folded the
turn to a 225,000 chip bet from Eveslage.
That hand brought Eveslage over two million to the end of the day and brought him within striking distance of the chip lead.
The second remaining Champions Club member is 2017 WPT Beijing champion, Chen, who also took down a $10,000 Five Diamond High Roller side event last week for $97,200.
Chen will enter Day 4 with 585,000 chips, but needed a double-up in the final level to survive the day. He got his last 221,000 chips in preflop with pocket kings against Yongwang's ace-queen and flopped a set to survive and advance to Day 4.
Vlogger's Fall on Day 3
The popular vlogging trio of Day 1 chip leaders Ethan Yauand WPT ambassadors Andrew Neeme other brad owen all saw their runs end on day 3.
Yau was the first to go in 65th place for $19,050. He then sent his support to his fellow vloggers via Twitter.
Rooting for @andrewneeme and @TheBradOwen to win a cool milly, that video will be nuts
The cool milly never materialized for Owen or Neeme however, as Owen fell in 54th place ($22,500), capturing his elimination via very bad beat with his vlogging camera.
After that, it was just Neeme left to represent the vlogging community, but while he was eliminated soon after in 43rd place, he did manage to earn a career-best live tournament cash of $25,000.
Out in 43rd for $25k. Always bittersweet but it's a new high score for me, and therefore, poker worked out ok today… https://t.co/0ndUTTEGk3
Lew is Last Woman Standing
Following the elimination of Farah Galfond in 52nd place for $22,400, Robbi Jade Lew was the last woman still in the tournament, but her time was short-lived after that as she got ace-king in preflop against Steve Buckner who held pocket kings in a hand captured by the WPT video team.
With about an hour left in Level 17 of the #WPTFiveDiamondWorldPokerClassic, 45/569 remain all guaranteed at least… https://t.co/rIu9R65NIl
Player of the Year Race Sees Movement
The WPT Player of the Year race has tightened up and could see a new leader at week's end with two contenders still in the tournament in Vanier and Buckner.
With at least 125 points locked up, Vanier has moved up to at least fourth place on the POY leaderboard, passing Robert Mizrachi, Chance Kornuth, Corey Wadeand Anton Wigg.
A 24th place or higher finish would earn Vanier enough points to move into at least a tie for second in the standings with 1,400 points, trailing only Ray Qartomy, who has 1,700. Qartomy busted early in Day 3 and failed to earn any points.
A fifth place or higher finish would move Vanier atop the standings.
Wade earned 75 points for his 60th place finish ($20,500) which moved him up to fifth on the leaderboard with 1,375 points.
Meanwhile, Buckner, who started the tournament just outside the top ten thanks to his second place finish at WPT Choctaw is now tied for ninth with Darren Elias at 1,225 points.
A fourth place or better finish would also vault Buckner over Qartomy into top spot, depending of course on where Vanier finishes.
Buckner, whom PokerNews profiled at WPT Choctawspoke after bagging and said his mother who recently passed away is still firmly on his mind as he tries to win both this tournament and the Player of the Year title.
"It means a lot. I'm playing for my mom, and you know I had a million chips earlier, I lost a 400k pot and had to fold on the turn, but I feel wonderful, and I just want to continue playing the way I'm playing. I'm extremely happy and I love the WPT. Winning (Player of the Year) would mean the world to me."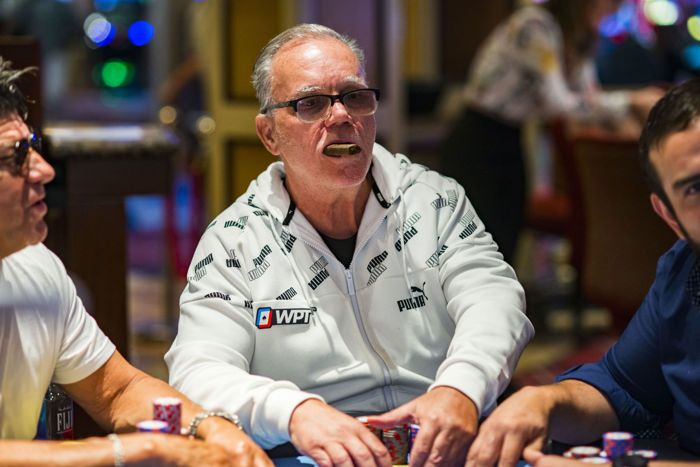 From 30 to 6 on Saturday
The final 30 players will return to the Bellagio poker room on Saturday at noon to play down to the final table of six.
Play begins at level 19 with blinds of 10,000 / 15,000 with a 15,000 big blind ante. Players will receive a 15-minute break at the completion of each 90-minute level.
The WPT Action Clock will remain in play with players being reloaded to a maximum of six 30-second time extensions once the final three tables (24 players remaining) are reached.
Stay locked on to PokerNews for continuing coverage of the WPT Five Diamond World Poker Classic Main Event until a winner is crowned Sunday at the legendary Bellagio Hotel and Casino.
the WPT Five Diamond World Poker Classic is a $10,400 buy-in, $5 million GTD tournament that runs from October 19-23. WPT Five Diamond is the longest-standing recurring WPT tournament, taking place at Bellagio since 2002. It has endured the test of time, and holds unique historical significance as the starting point for the World Poker Tour. PokerNews will be offering daily content from the event, so stay tuned for more big WPT recaps, stories, and more!
*Images courtesy of WPT/Joe Giron.