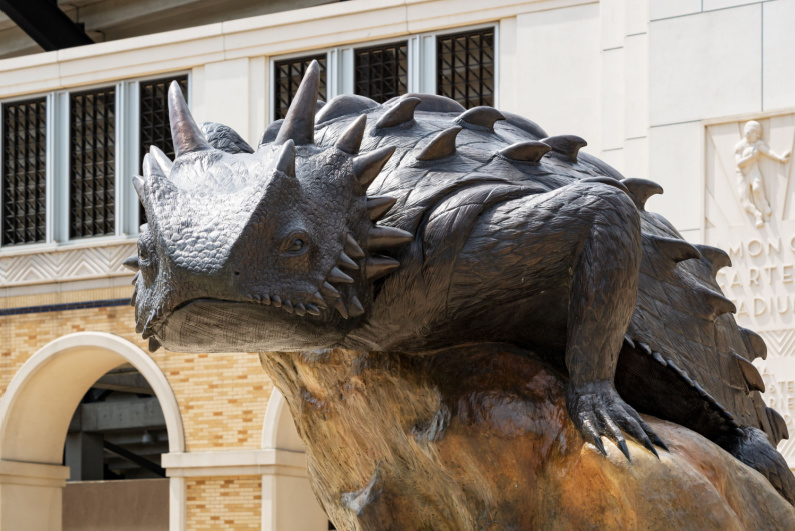 Jim "Mattress Mack" McIngvale has placed more gigantic bets, this time $3m on TCU over Georgia in the college football title game. [Image: Shutterstock.com]
TCU is a big underdog
A major US sports championship is approaching, which means it is time for a humongous bet from Mattress Mack. This time, he has placed more than $3m in wagers on the TCU Horned Frogs to beat the Georgia Bulldogs in next Monday's College Football Playoff National Championship.
Texas loyalty
It shouldn't come as much of a surprise that Mack, whose real name is Jim McIngvale, bet on TCU, as he is from Houston and the school is in Fort Worth. Texas loyalty, as it were.
As reported by Darren Rovell of Action Network, about a two-thirds of Mattress Mack's bets on are on the TCU moneyline. His biggest chunk is $1.5m at DraftKings, where he got TCU +370. He also put down $500,000 at Caesars at +400 and $130,000 at WynnBet at +380.
McIngvale plunked down another $1m on the spread, where he got TCU at +13 with a vig of -110. Should TCU pull off the sizeable upset (they just beat Michigan in the semifinal as a 7.5-point underdog), McIngvale stands to win about $8m.
Record-setting World Series cash
Mattress Mack has been making these insane wagers for years, but he topped all of them in 2022 when he won $75m when his favorite team, the Houston Astros, won the World Series this past fall. He placed a series of bets throughout the season totaling $10m, getting average odds of +750. It was the largest official sports betting payout ever recorded.
The Astros were one of the favorites to win it all the entire season and they had very little trouble in the playoffs. They swept the Seattle Mariners and New York Yankees in the first two rounds (though they needed a historic comeback in Game 1 against Seattle to win that first game) and then beat the Philadelphia Phillies in six games to win the World Series.
Houston did fall behind two games to one to Philly, but took the next three games to secure the title. They were never at risk of elimination.
Master promoter
Aside from being quite wealthy, Mattress Mack is able to make multi-million bets multiple times a year because he pairs them with a promotion at his Gallery Furniture store in Houston. With his TCU bet, he is giving every customer who makes a "qualifying Tempur-Pedic, Sealy, Stearns and Foster mattress set $3,000 or more when you buy and take immediate delivery" two times their money back if the Horned Frogs wins the national title .
While he is not guaranteed to profit either way, the promo is used as a hedge against his bets or vice versa, depending on one's perspective. Should TCU beat Georgia, Mattress Mack will win millions, but lose a truckload refunding customers twice their purchase total. If TCU loses, he'll lose $3m+, but will likely have made more money off of the promotion than he normally would without it. Even if he loses money (and he has frequently come out significantly on the plus side), he sees it as a marketing expense.
I thrive on chaos."
Plus, for Jim McIngvale, it's just a lot of fun. "I just get bored to death with stability, which is why I guess I like all of these big bets," he told ESPN in October 2022. "I thrive on chaos."
"My wife says I have a gambling problem. I say I have a promotion problem."