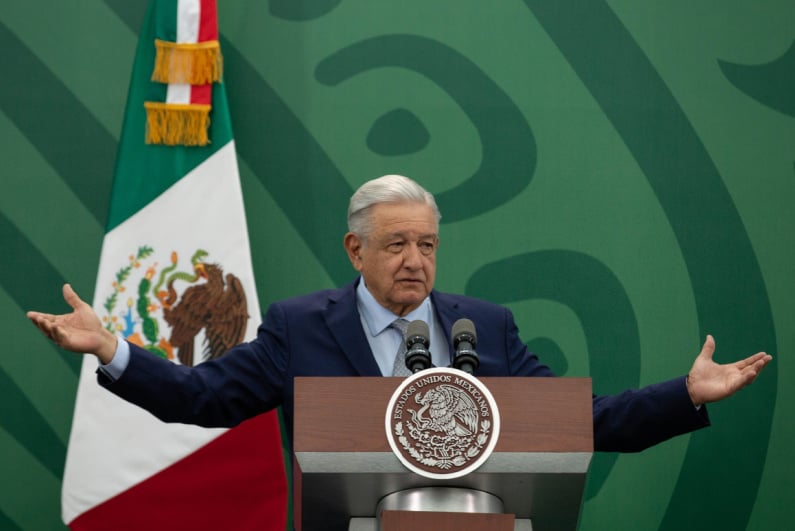 Mexican President Andrés Manuel López Obrador has banned slot machines, but an election year in 2024 could give casino operators hope. [image: Shutterstock.com]
Mexican President Andres Manuel Lopez Obrador has signed a decree making a series of radical changes to his country's 2004 gambling regulations.
The decree, published in the government's official gazette on Thursday morning, bans certain casino activities, including slot machines and table games. This specifically mentions "betting games with cards, dice, roulette wheels or slot machines". It also repeals several provisions of the 2004 Regulations which permit the "drawing of a number of symbols by machines".
In addition, the decree prohibits Mexican gambling companies from working with third-party companies. This prevents Mexican licensees from partnering with international online gaming brands to operate under their licenses – a current common practice. The term of a Mexican gambling license will also be shortened from 25 to 15 years under the new rules.
The changes will not take effect immediately
Although the decree was signed this week, the changes will not take effect immediately. New permits are subject to the prohibitions, while existing license holders can continue under current conditions until their permits either expire or reach 15 years. This gives existing license holders some time to appeal the new rules, and a 2024 election year could provide hope.
After a parliamentary election in June 2024, a new president is expected to take office in Mexico. The ruling party has named former Mexico City mayor Claudia Sheinbaum as its presidential candidate Opinion polls suggest she is almost certain of an easy victory. Her views on gambling are unclear, but casinos can only hope she won't be quite as negative as her predecessor.
Obrador's crackdown on the gambling industry boiled down to his disapproval of former President Vincente Fox. After taking office at Fox in 2018, Obrador claimed that his predecessor used bribery and extortion to allow many casinos to obtain licenses.