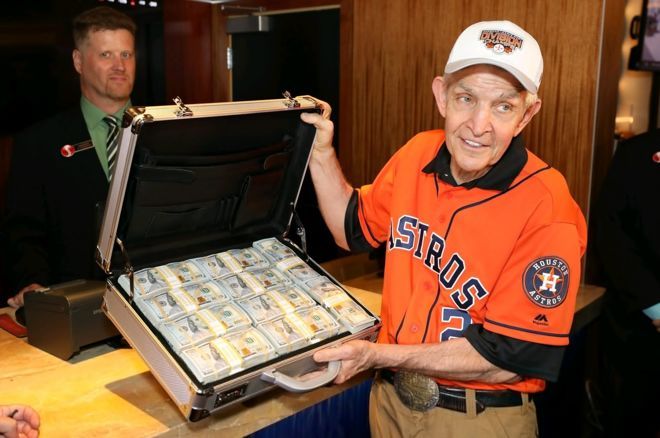 Jim McIngvale, better known as "Mattress Mack," celebrated his beloved Houston Astros baseball World Series title Saturday night with a nice cool eight-figure payday, the largest sports betting win ever.
The 71-year-old billionaire owner of the Gallery Furniture retail chain has a penchant for placing massive wagers on his local sports teams. In 2017, the Astros' last and first championship, he bet $3.5 million on his team to win. That's pennies compared to his 2022 World Series bet — $10 million with a payout of more than $72 million.
Mattress Mack Sports Bet details
McIngvale spread his wagers out across numerous sportsbooks. According to Darren Rovell of the Action Network, the biggest bet was placed in May for $3 million at a Caesars sportsbook. He was given 10-1 odds on the Astros winning the 2022 World Series, meaning that single wager paid out $30 million. He placed similar seven-figure wagers at a handful of other sportsbooks.
The Houston Astros, behind dominant pitching and a timely three-run homer by Yordan Alvarez, defeated the Philadelphia Phillies Saturday night in Game 6 of the best-of-seven series, closing out the series with a 4-1 victory. Philadelphia won the series opener and had gone up two games to one, but the Phillies bats died from then on out and the National League champions dropped the final three games.
Mattress Mack is one of the most vocal Astros supporters in the world and isn't afraid to put his money where his mouth is. But he's going to be giving a hefty chunk of that win back to his customers.
Gallery Furniture has been running the "2022 Astros Win it All, Get it All" promotion in conjunction with McIngvale's sports bet. Customers who spent $3,000 or more on Tempur-Pedic, Stearns & Foster or Sealy mattress sets during the promotion period would receive their purchase price back if the Astros defeated the Phillies, which of course they did.
Poker backing background
Earlier this year, Mattress Mack put his money on a different World Series — the World Series of Poker. The retail store owner backed a group of local players from the Houston area to compete in poker tournaments this past summer.
The poker stable dubbed the "Poker Stallions," included bracelet winner DJ Alexander. McIngvale invested $560,000 in the group to compete in various tournaments around Las Vegas during the summer of 2022.
Mattress Mack is an avid supporter of all things Houston, including the poker scene and of course the Astros, the Major League Baseball team that has made him even wealthier.
There were a number of Texas-based poker pros who proudly supported the World Series title, including Ray Henson who took a shot at those who won't let go the 2017 Astros cheating scandal that rocked baseball.
Looking forward to hearing about the ways we cheated to win this one when I wake up tmrw
This year, there's no denying the legitimacy of the Houston Astros' title.