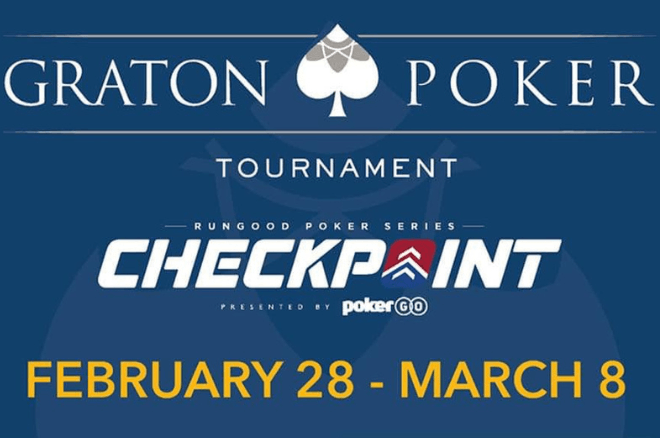 After wrapping up at Jamul Casino in San Diego, the award-nominated RunGood Poker Series (RGPS) will stick around in California and will head up to Graton Casino in the Bay Area for the latest stop in its "Checkpoint" season taking place Feb. 28-March 8.
It's an exciting time for the RGPS team as they once again have been nominated for "Best Mid-Major" at the annual Global Poker Awards and RunGood founder Tana Karn is also on the shortlist for "Industry Person of the Year." It's also a busy time for the team as RGPS Horseshoe Tunic will be taking place alongside the Bay Area stop Feb 28-Mar 5.
The RGPS Bay Area stop will feature several ring events and will culminate with the $800 buy-in Main Event with a guaranteed $250,000 prize pool up for grabs March 3-5, which PokerNews will be on site to report on.
Read about Pete Petree's victory in the RGPS Hard Rock Tulsa Main Event!
Mixed game and bounty events
Ahead of the $250,000 guaranteed Main Event will be a series of Ring Events, kicking off on Feb. 28 with a $250 Seniors 50+ NLH Ring Eventa $250 6-Max NLH Ring Event and a $200 Guest Bounty NLH Ring Event.
The Guest Bounty event is one of several bounty tournaments at the Bay Area stop, which will also feature a $360 black chip bounty ring event and a $200 double green chip bounty ring event.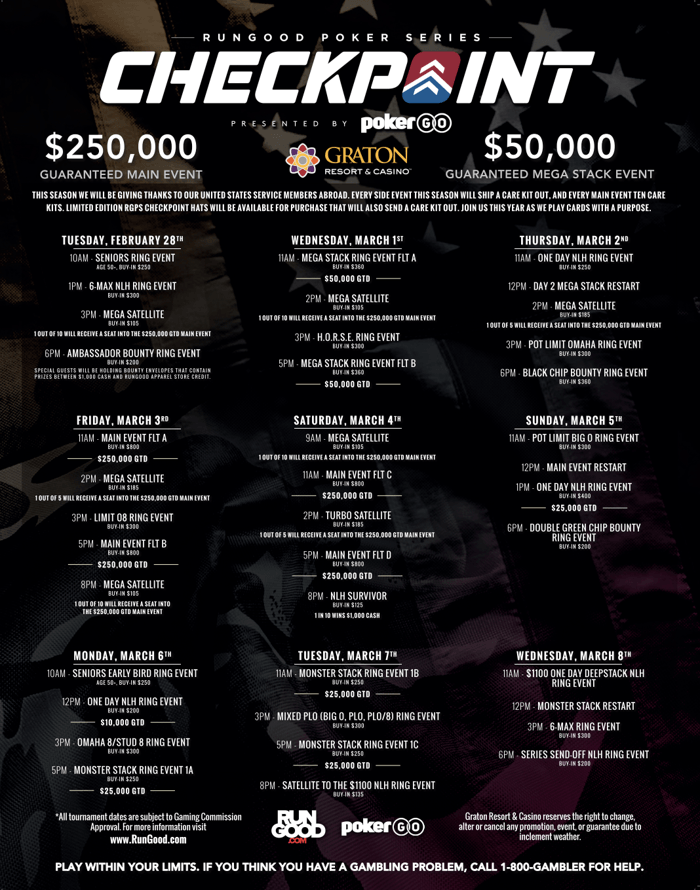 There will also be plenty of Omaha and mixed game action throughout the stop, including a Pot limit Omaha ring eventa Limit 08 ring eventat Omaha 8/Stud 8 ring event and a Mixed Omaha (Big O, PLO, PLO8) ring eventall of which cost $300 to enter.
Other highlights of the RGPS stop include a $125 NLH Survivor Event where one in ten players will win $1,000 cash and a two-day $250 Monster Stack Ring Event with a $25,000 guaranteed prize pool.
The RGPS Bay Area Main Event will feature four starting flights as it looks to crack the $250,000 guarantee. The event will play down to a winner on March 5 alongside several other Ring Events as the series closes out.
Previous Winners
Last year, the RGPS Bay Area $600 Main Event drew a record-setting field of 1,144 runners for a prize pool of $594,880. Omaha specialist Kulwant Singh took down the event for $100,070 after defeating heads-up opponent Bryan Saltzmanwho in turn took home $69,115.
Other highlights of the 2022 Bay Area stop included Kevin Goldman taking down Event #1: $250 Seniors for $12,100 and Svetlana Meinikova winning Event #2: 250 6-Max for $5,690 after an even chop with Ashkun Latevardi other Angelo Kratsa.
RGPS Bay Area Main Event Final Table Results
| rank | player | Country | Prize |
| --- | --- | --- | --- |
| 1 | Kulwant Singh | United States | $100,070 |
| 2 | Bryan Saltzman | United States | $69,115 |
| 3 | Paul Serrate | United States | $44,660 |
| 4 | Julian Ruvalcaba | United States | $33,205 |
| 5 | Jose Castillo | United States | $25,465 |
| 6 | Matt Massaro | United States | $20,590 |
| 7 | Sean Burson | United States | $17,010 |
| 8th | Max Gratuito | United States | $13,480 |
| 9 | Jeff Spruitenburg | United States | $10,000 |
After wrapping up the Bay Area and Tunica stops, the RunGood team will head to bestbet Jacksonville in Florida for the next "Checkpoint" stop taking place March 23-April 2.
The full schedule for the upcoming RGPS Bay Area stop is available in the table below.
2023 RGPS Bay Area Full Schedule
| | DATE | BEGIN | EVENTS |
| --- | --- | --- | --- |
| | Feb 28 | 10:00 AM | Seniors 50+ NLH Ring Event (Buy-In $250) |
| | Feb 28 | 1:00 PM | 6-Max NLH Ring Event (Buy In $250) |
| | Feb 28 | 3:00 PM | Main Event Mega Satellite (Buy-In $105, 1 in 10 Wins A Seat) |
| | Feb 28 | 6:00 PM | Guest Bounty NLH Ring Event (Buy-In $200) |
| | March 1 | 11:00 AM | Mega Stack Ring Event FLT A ($360 Buy-In, $50,000 GTD Prizepool) |
| | March 1 | 2:00 PM | Main Event Mega Satellite (Buy-In $105, 1 in 10 Wins A Seat) |
| | March 1 | 3:00 PM | HORSE Ring Event (Buy-In $300) |
| | March 1 | 6:00 PM | Mega Stack Ring Event FLT B (Buy-In $360, $50,000 GTD Prizepool) |
| | March 2 | 11:00 AM | One Day NLH Ring Event (Buy In $250) |
| | March 2 | 12:00 PM | Mega Stack Ring Event Restart |
| | March 2 | 2:00 PM | Main Event Mega Satellite (Buy-In $185, 1 in 5 Wins A Seat) |
| | March 2 | 3:00 PM | Pot Limit Omaha Ring Event (Buy In $300) |
| | March 2 | 6:00 PM | Black Chip Bounty Ring Event (Buy-In $360) |
| | March 3 | 11:00 AM | RunGood Main Event FLT A ($800 buy-in, $250,000 GTD prize pool) |
| | March 3 | 2:00 PM | Main Event Mega Satellite (Buy-In $185, 1 in 5 Wins A Seat) |
| | March 3 | 3:00 PM | Limit 08 Ring Event (Buy-In $300) |
| | March 3 | 6:00 PM | RunGood Main Event FLT B (Buy-In $800, $250,000 GTD Prizepool) |
| | March 3 | 8:00 PM | Main Event Satellite (Buy-In $105, 1 in 10 Wins A Seat) |
| | March 4th | 9:00 AM | Main Event Satellite (Buy-In $105, 1 in 10 Wins A Seat) |
| | March 4th | 11:00 AM | RunGood Main Event FLT C ($800 Buy-In, $250,000 GTD Prizepool) |
| | March 4th | 2:00 PM | Turbo Main Event Satellite (Buy-In $185, 1 in 5 Wins A Seat) |
| | March 4th | 6:00 PM | RunGood Main Event FLT D ($800 buy-in, $250,000 GTD prize pool) |
| | March 4th | 8:00 PM | NLH Survivor (Buy-In $125, 1 in 10 Wins $1,000 CASH) |
| | March 5 | 12:00 PM | Main event restart |
| | March 5 | 1:00 PM | One Day NLH Ring Event (Buy-In $400, $25,000 GTD Prizepool) |
| | March 5 | 3:00 PM | BIG O Pot Limit Hi/Lo Ring Event (Buy-In $300) |
| | March 5 | 6:00 PM | Double Green Chip Bounty Ring Event (Buy-In $200) |
| | March 6th | 10:00 AM | Seniors Earlybird Ring Event (Buy-In $250, Age 50+) |
| | March 6th | 1:00 PM | One Day NLH Ring Event (Buy-In $200, $10,000 GTD Prizepool) |
| | March 6th | 3:00 PM | Omaha 8/Stud 8 Ring Event (Buy-In $300) |
| | March 6th | 5:00 PM | Monster Stack Ring Event FLT A (Buy-In $250, $25,000 GTD Prizepool) |
| | March 7th | 11:00 AM | Monster Stack Ring Event FLT B (Buy-In $250, $25,000 GTD Prizepool) |
| | March 7th | 3:00 PM | Mixed Omaha (Big O, PLO, PLO8) Ring Event (Buy-In $300) |
| | March 7th | 5:00 PM | Monster Stack Ring Event FLT C (Buy-In $250, $25,000 GTD Prizepool) |
| | March 7th | 8:00 PM | Satellite to the $1,100 Deepstack (Buy-In $135, 1 in 10 Wins A Seat) |
| | March 8 | 11:00 AM | One Day Deepstack NLH Ring Event (Buy-In $1,100) |
| | March 8 | 12:00 PM | Monster stack restart |
| | March 8 | 3:00 PM | 6-Max NLH Ring Event (Buy In $300) |
| | March 8 | 6:00 PM | Series Sendoff NLH Ring Event (Buy-In $200) |