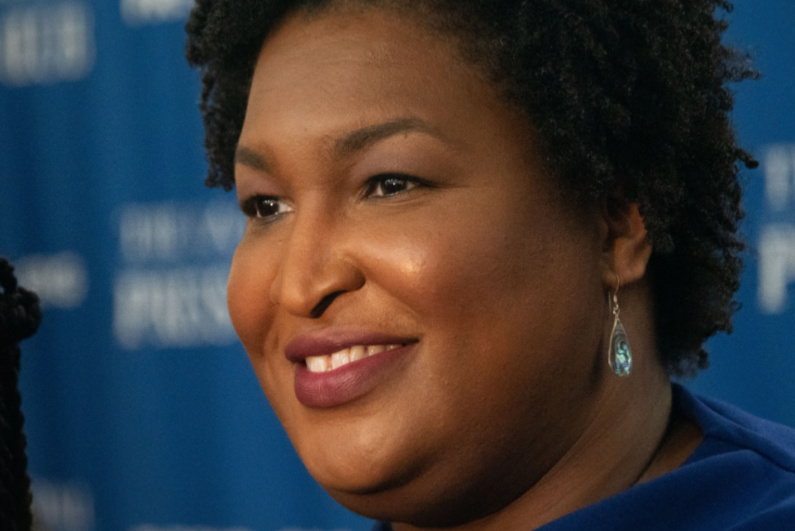 Georgia gubernatorial candidate Stacey Abrams wants to legalize gambling and sports betting in her state. [Image: Shutterstock.com]
Dissatisfaction with incumbents
Georgia Democratic gubernatorial candidate Stacey Abrams recently unveiled a new economic plan that would legalize casino gambling and sports betting.
he can point the finger as much as he likes"
Abrams, one of the most influential Democrats not currently in office, has pinned many of Georgia's current economic issues on current Governor Brian Kemp, stating that "he can point the finger as much as he likes" and "this is either the economy he created or it's not."
Abrams' campaign for legal casino gambling goes part and parcel with her plan to reach more audiences. She hopes that bringing more participants into the economy will funnel more money to minority and local business owners.
Georgia sports betting gets an injection
Sports betting is not legal anywhere in Georgia. State legislators made valiant attempts in 2021 and 2022 but were shut down before securing the required votes.
Abrams, however, wants to use casino gambling and sports gambling revenue to help fund a financial aid program. Through this, she would be able to reinvest in the state without changing the allocation of preexisting reserves.
studies projected the potential for billions to exist in economic impact funds"
"This will serve as a permanent source of revenue to underwrite broader access to education," Abrams said. "Studies projected the potential for billions to exist in economic impact funds that will not only finance our efforts to replenish and expand the Hope Scholarship, but it will also provide new economic opportunities for Georgia that can grow jobs and make our economy stronger for everyone. "
Two-thirds of Georgia's Senate and House members must agree upon the proposition before it can be passed on to voters.
Other objectives in Abrams' plan include free technical college for in-state residents, a small business growth fund, updates to contract bidding, Medicaid expansion, and easier access to agricultural schooling.
Gauging the climate
As of August 11, FiveThirtyEight has incumbent Kemp leading Abrams in the polls, 48.9% to 44.0%. The sports betting platform remains a major pillar on her campaign trail.
We can afford it and we must do it."
"We can afford it and we must do it," Abrams said while speaking on legal sports betting.
Georgians should have optimism that there will be change eventually, even if early-2022 legislative meetings failed to produce any new legislation. House Speaker David Ralston previously said: "….there is an appetite this session that I haven't seen before to do something."
The Peach State would make an appetizing market for many operators if its market opened. The Atlanta Falcons, Atlanta Hawks, Atlanta Braves, and Atlanta United FC are all major attractions in their respective sports.
The Georgia Bulldogs, the reigning college football national champions, would also draw some serious dough. The championship game alone has an estimated $1bn worldwide handle each year.
Georgia also has the opportunity to break a regional precedent by legalizing sports betting. The only southeastern states that offer sports gaming services are Tennessee and Mississippi, or if the "regional" term is liberalized, North Carolina and Louisiana, pending a court ruling on Florida's agreement.
Georgia's gubernatorial election will be held on Tuesday, November 8.
Commercial sports betting generated $4.3bn in the US in 2021, a 179.7% increase year-to-year.