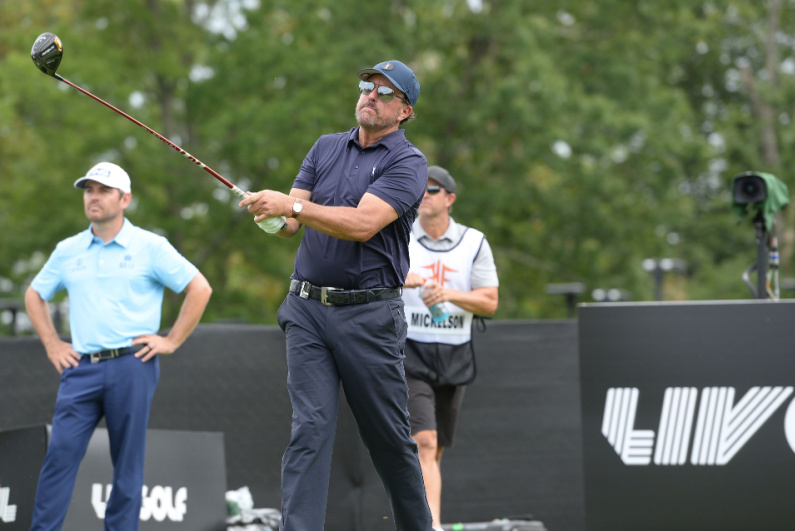 Simplebet, via Hard Rock Bet, is releasing micro betting markets for the LIV Golf event in Chicago, which begins on Friday. [Image: Shutterstock.com]
Open up new options
At LIV golf events, players can now bet on the results of individual shots. Simplebet is releasing these markets in time for the LIV Golf Chicago tournament, which begins on Friday. The event at Rich Harvest Farms will feature 48 golfers and will be the first time these betting types will be available for LIV Golf action.
Hard Rock Bet will initially be the only sports betting platform to offer these types of markets.
Hard Rock Bet will initially be the only sports betting platform to offer these markets. New betting options include betting on the score they think a player will achieve on a particular hole, whether their tee shot will hit the fairway, or whether they will hit the green off the tee when playing a par 3.
A big player in the micro-betting space
Simplebet originally partnered with LIV Golf in July and came on board as an official sports betting innovation partner. In addition to developing micro-betting markets, it will also offer single-screen in-play betting technology and low-latency video streaming of tournament events.
Speaking about these micro betting markets now being available, Chris Bevilacqua, CEO of Simplebet, said that Friday's launch was a huge achievement for his team as they have "spent countless hours creating the optimal product for the fans of To develop LIV Golf across the country and the world."
Hard Rock Bet is currently available in seven states including Arizona, New Jersey, Ohio and Tennessee.
Simplebet has also developed micro-betting products for MLB, NBA, NFL, college basketball and college football for operators such as Caesars, Hard Rock Bet, bet365 and DraftKings. The aim is to give sports betting providers, technology companies and media companies the opportunity to improve the viewing experience of live sports.
The rise of LIV Golf
PGA Tour micro-betting markets are already available through sportsbooks BetRivers, FanDuel and DraftKings. LIV Golf began as a rival to other major professional golf tournaments before it was announced in June that the PGA Tour and LIV Golf would be merging.
offering fans a different viewing experience
The idea behind the upcoming LIV Golf Tour is to offer fans a completely different viewing experience. There are more team-based events with fewer tournament days and tournament formats are changing regularly. Golfers playing on the LIV Golf Tour include five-time major champion Brooks Koepka, World Golf Hall of Famer Phil Mickelson and 2020 US Open winner Bryson DeChambeau.