Twitch streamers Dennis "Paymoneywubby" Richardson found himself in hot water this week, after a freeroll poker stream attracted the ire of his audience, who raised some concerns about the promotion of gambling on the site and the trustworthiness of the poker site.
Richardson is a popular San Diego-based variety streamer and two-time Streamer Awards nominee. He is best known for his iconic green-screen suit, passionate audience of "Wubcubs" and for producing innovative Twitch game shows such as 'The Price is Scuffed'.
He would address the concerns of his audience in a follow up "fireside chat"stating that he had heard what he believed was fair criticism, but that other more personal attacks and unfounded claims of him scamming his audience were unwarranted and uncalled for.
---
PokerStars "Up to the Challenge" of Combatting Cheating and Real-Time Assistance
---
Freeroll Tournament Crashes; Players Refunded
Richardson had accepted a sponsorship from and subsequently hosted a freeroll poker tournament on Americas Card Room (ACR) that attracted close to 5,000 entries. After the tournament crashed, with all participants refunded as a result, viewers began to criticize the streamer on Reddit for him partnering with the unregulated poker site.
America's card room is on unregulated online poker room based in costa rica. Although there are no federal laws that make it illegal to play there, America's cardroom is not regulated anywhere in the United States and there are no fraud protections for American players on the site.
Not only did the freeroll come with a guaranteed prizepool of $10,0000, viewers could join the tournament and potentially win $2,000 every time Richardson was eliminated (up to five times).
What Are the Best Poker Sites for US Players?
If eliminated, players could re-enter and receive 35,000 chips for $2.20 or 70,000 chips for $4.40. The amount of entries — almost 5,000 — made it one of the most popular ACR-hosted streamer freerolls ever held.
During the stream, Richardson reiterated that his viewers were not required to pay to enter the tournament, nor to be eligible for the $2,000 bounty on his head. He also made it clear that he wasn't getting paid any affiliate revenue for referring any players as new sign-ups.
"I am not paid by referrals," he told his chat, saying he was just getting paid for doing the stream. "I am not paid by how much money you put into their system."
He revealed that the site had also given him $15,000 of "real US dinero" to play with, and that he was allowed to keep anything he won and anything he was left with. However, that didn't stop Richardson criticizing the site, saying it was "out of 2005" and that the emotes were outdated.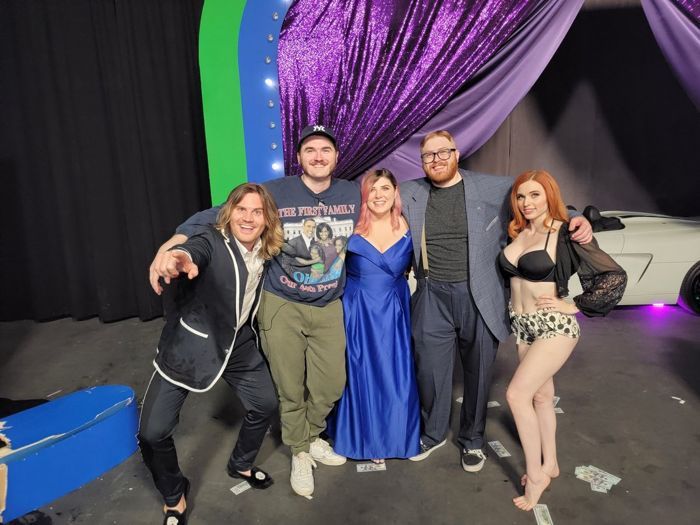 Reaction to His Stream
Following the stream, a small but vocal minority of viewers began to raise concerns on his community subreddit about the morality of streaming online gambling, with Twitch's ban of unlicensed gambling sites only two months ago.
Others were skeptical of the legality of playing real-money online poker in the United States in 2022, especially considering the events of Black Friday and the Unlawful Internet Gambling Enforcement Act of 2006 (UIGEA) which made it technically illegal for banks to accept online gambling transactions and for gambling sites to operate at all.
---
Full Tilt Poker Scandal in 2011: The Darkest Days in Poker History
---
Richardson Responds
This criticism — both warranted and unwarranted — resulted in Richardson two days later spending a portion of his stream conducting an in-depth chat about the messages and posts he had received since accepting the sponsorship.
"I've heard what I think to be real concerns […] If you have a problem with gambling and that includes poker, that's ok."
"The amount of shit that has been thrown in my face is insane," he said. "I've heard what I think to be real concerns. I am going to do my best to respond to real criticism, address it fairly and then I'm going to pivot to my issues with this community."
The most common concern expressed was general reticence from certain viewers to him accepting a gambling stream in the first place, and that they wouldn't feel comfortable watching a gambling stream. Richardson says that this was something he was understanding of.
"If you have a problem with gambling and that includes poker, that's OK. I view poker differently from slots or casino sponsorship.
"I'm not going to convince myself that I'm morally better than you – I don't think I am – we probably disagree on other things as well. I respect that. You don't have to watch."
The second main criticism that Richardson received was something that he said he felt personally pained by. This stemmed more around allegations that Richardson and his team were intentionally defrauding or scamming the audience as a result of partnering with the site.
How to Play Online Poker with Friends
"It's disappointing that people think so low of me and my team," he said. "I trust myself and my research. I trust my team. I trust my management company."
Richardson pointed to other notable Twitch streamers who had partnered with the site such as "jschlatt", Karl Jacobs"QTCinderella" and Ludwig Ahgrenthe latter of which previously appeared on a Hustler Casino Live stream alongside Mr. Beast.
---
Popular Streamer Ludwig Also Calls Out Ethan "RampagePoker" Yau's Scammer Over $100k Debt
---
One post criticizing the partnership pointed to Trustpilot — a consumer review website — which featured overwhelmingly negative reviews of ACR.
Richardson thoroughly debunked this as a valid argument, pointing out that the vast majority of the negative reviews stemmed from perceived "bad beats" or unlucky play instead of legitimate concerns about the software, security or customer service. Although concerns about these areas were raised, they were drastically outnumbered.
"I feel I've adequately proved that you have more work to do to prove it's a scam"
In summary, Richardson said that he felt he had done enough to address the concerns of his viewers, and that allegations that there was anything sinister going on regarding the partnership would need more evidence.
"To the people saying ACR is a scam — their site looks sketchy, and that's a fair complaint. [But] I feel I've adequately proved that you have more work to do to prove it's a scam, but I think I've addressed the claims that they're a scam to the best of my ability."
Where Can I Play Legally Regulated Online Poker in the US?
There are a number of regulated real money online poker sites that you can play on in the United States.
A handful of states have already legalized online poker, such as Nevada, New Jersey, Delaware, Pennsylvania, and Michigan. In these states, online operators are required to sign licensing agreements with the land-based casinos in order to launch their online poker rooms, and plenty of big names have already done so.
Here are some steps for you to take in order to play online poker in the US:
Alternatively, there are plenty of free online poker options for US players that require no deposit to play on.

Executive Editor EU

Will Shillibier is based in the United Kingdom. He graduated from the University of Kent in 2017 with a BA in German, and then studied for a NCTJ Diploma in Sports Journalism at Sportsbeat in Manchester. He previously worked as a freelance live reporter, and video presenter for the World Poker Tour.