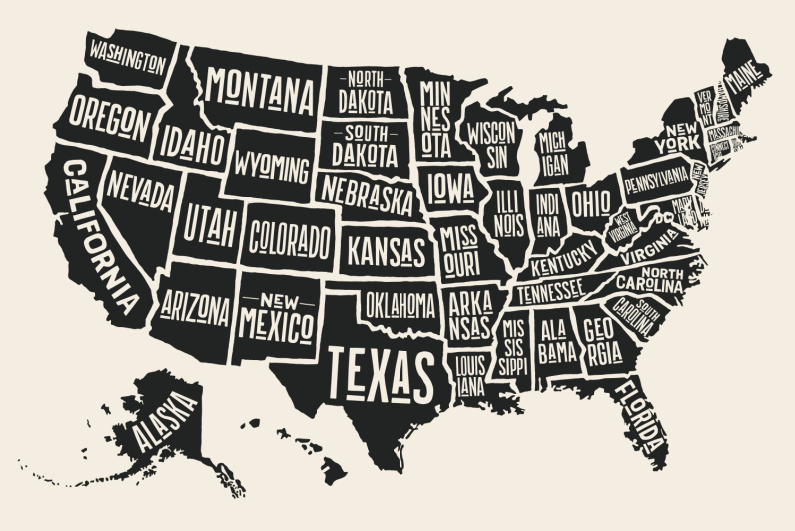 In the US, several major states seem on the verge of legalizing sports betting in 2023. [Image: Shutterstock.com]
A new dawn
As the chiming of the clock signals a new year, it brings with it fresh hope for sports betting backers in the US. Since the repeal of the Professional and Amateur Sports Protection Act in 2018, states have fallen like dominos in legalizing the profitable vertical. Now, a total of 33 jurisdictions offer betting in some form.
New York swiftly became the top dog for betting handle
2022 saw some highly-sought-after states added to that mix. When its online betting market went live in January, New York swiftly became the top dog for betting handle, generating $1.63bn in just its first month. Meanwhile, based on unique devices used for betting apps and taking percentage of the population into account, Kansas even exceeded New York's debut when it went live in September.
Although betting backing lawmakers saw success here, they have proven less fortunate elsewhere this year – California, Minnesota, and Georgia three states in which bills fell flat. Whatever the case, legislators that tried and failed will return with renewed vigor in 2023, and several large states seem on the precipice of legal betting this time around.
California gold
This year marked a tumultuous period for California betting hopes. Two opposing betting propositions made it all the way to the ballot in November and both failed to gain voter support. A commercial operator coalition, including FanDuel and DraftKings, even began pulling its expensive ads early as the polls predicted the loss.
speaking with Vegas Slots Online News Prior to the vote, Kathy Fairbanks of No on Proposition 27 claimed her team's proposal, one that would only allow in-person betting at tribal casinos, was the best deal for the state. Voters clearly agreed, with the tribal initiative gaining a 33% yes vote compared to the commercial prop's 18% approval.
voters don't want a massive expansion of online sports betting"
When VSO News reached out to Fairbanks again regarding 2023 hopes, she shared a quote from Mark Macarro, tribal chairman of the Pechanga Band of Indians. He said that the rejection of the commercial betting proposal indicated "voters don't want a massive expansion of online sports betting." However, he stopped short of providing any indication whether the tribes will try for legalization again in 2023, confirming only that they would meet to discuss the future soon.
Regardless, 2024 is technically the earliest that California sports betting could launch if an agreement is reached in 2023. Betting backers clearly need to win over some hearts and minds before they can achieve that goal, but with a potential market of up to $3bn per year on the line, they will undoubtedly continue to give it their best shot.
Lone star betting
With its population of nearly 30 million, Texas has long been a desired market for commercial betting operators. The state's conservative nature has made that a difficult goal to achieve, but lawmakers are continuing to push for gambling expansion and some have high hopes for 2023 as a date for change.
Abbott has U-turned on his previous stance
A significant source of this optimism comes from Texas Governor Greg Abbott. In the past, he has positioned himself on the anti-gambling side of the debate, in 2015 declaring that he was "wholeheartedly" in favor of strict gambling laws. However, perhaps in response to his gubernatorial opponent Beto O'Rourke, who championed gambling expansion as a means for economic gain, Abbott has U-turned on his previous stance.
Prior to his election win in November, Abbott confirmed that he is open to proposals from the gambling industry regarding some expansion. While this is unlikely to include widespread online wagering, Abbott may be convinced to permit betting options at newly approved casino locations across the state.
Paving the way for that to happen, Sen. Carol Alvarado has already pre-filed a new Texas bill aiming to legalize sports betting and casinos. If successful in 2023, the legislation would allow for the construction of four casino resorts in major cities although it does not provide many details on how sports betting comes into play. Lawmakers will discuss Alvarado's bill in the 2023 legislative session in January.
Florida goes to court
Back in 2021, Florida looked all set to become the next state to join the US's sports betting market. In fact, the state did offer online wagering for a short period through its Seminole Hard Rock Hotel and Casino Hollywood. The sportsbook lasted less than a month when a judge deemed a tribal compact signed by Governor Ron DeSantis illegal because of its inclusion of online wagering, placing the state and the Seminole Tribe of Florida in legal limbo.
In August this year, betting hopes gained fresh momentum when the Biden administration advocated for an appeals court to reinstate the compact. The White House backing adds even more weight to the defiant arguments of DeSantis and the Department of Justice – the federal body that gave the compact the green light last year.
arguments seemed to go well for betting backers
Now, the sports betting compact has finally reached the court room. Oral arguments began regarding the 2021 deal on Wednesday, with Judges Henderson, Wilkins, and Childs of the US Court of Appeals for the District of Columbia assessing the case. According to Legal Sports Reportarguments seemed to go well for betting backers, but it could be more than two months before a decision is reached.
Daniel Wallach, a sports betting and gambling-focused attorney, shared his opinion on the betting launch date earlier this week:
Whatever the result in the appeals court, it is likely the losing party will appeal either for a rehearing or directly to the Supreme Court. If the sports betting compact loses on both counts, however, Florida cannot put another sports betting measure on the ballot until 2024