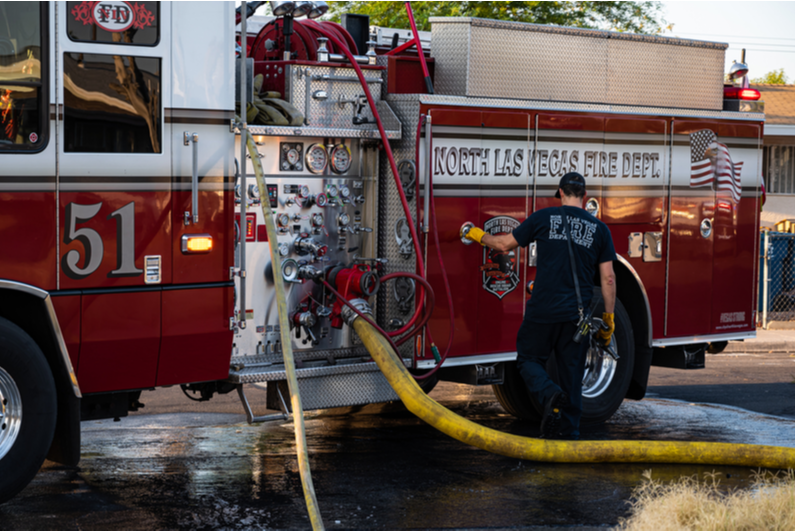 Two people have died following a fire in a tunnel close to a Las Vegas casino. [Image: Shutterstock.com]
A tragic incident
Emergency services have found two people dead near the Silverton Hotel and Casino in Las Vegas. Firefighters discovered the bodies of a woman and man on Monday afternoon in a tunnel close to the casino.
In a statement, Las Vegas police outlined how officers went to assist firefighters with a blaze in the underground tunnel. The fire crew managed to eventually extinguish the fire. However, an individually reportedly came out of the tunnel and told the emergency personnel on the scene that people stayed inside.
found the two adult victims alongside numerous dead cats
The authorities conducted searches for any victims but had issues due to the narrowness of the tunnel. Multiple crews had to turn back at different stages as a result of low air. Authorities ultimately found the two adult victims alongside numerous dead cats.
Further details sparse
The Clark County Fire Department was the first to respond to calls about a fire close to Interstate 15. Footage from traffic cameras shows emergency vehicles and black smoke close to the Bass Pro Shop, which is a part of the Silverton property.
As reported by the Las Vegas Review Journal, Firefighters have yet to determine the cause of the fire, with investigations ongoing. Other than the duo found dead, no other civilians suffered injuries as a result of the incident.
not being treated as a homicide investigation at this time"
Once the next of kin of the victims have been notified, the Clark County Coroner's Office has confirmed it will release their identities. Authorities have not yet released any details regarding the causes of death, but Metropolitan Police Department Lt. Brian Boxler said that the deaths are "not being treated as a homicide investigation at this time."
An expansive tunnel system
It is unclear what the victims were doing in the tunnel at the time of their deaths. However, there are hundreds of homeless people in Las Vegas who reportedly live in this system of underground tunnels, used by the city to help deal with occasional flash floods and downpours.
There are tunnel entrances all across Sin City, including close to some of the biggest casino resorts. This includes Caesars Palace, the Flamingo Las Vegas Hotel and Casino, and the Rio All-Suite Hotel and Casino.
The Silverton Hotel and Casino opened for the first time in 1994 and has undergone numerous renovations. In 2004, the Bass Pro Shop opened on the property.