UFC star Colby Covington is a contender once again, but this time it's not in the octagon. Instead, the mixed martial artist is putting a chokehold on the competition in the $3,500 buy-in World Poker Tour Seminole Hard Rock Tampa Main Event.
Covington, who spoke with PokerNews at the conclusion of Day 1b, had already bagged an impressive 212,500 chips (85 big blinds) in Friday's Day 1a session. Per the tournament's rules, a player can reenter the second starting flight, which took place on Saturday, and then advance to Day 2 with the largest stack they secured.
Most players, however, opt to take the second Day 1 flight off if they had already bagged a decent stack. That's not how Covington rolls.
"I just decided I'm already up here in Tampa, I got nothing else to do. I love poker. I don't play for the money, I play because I love the game. So, you know, I just wanted to come out here and see if I could put a better bag in and just show that I'm a pretty good player and put two bags in there," Covington said.
He did, in fact, achieve his goal for the day of bagging a bigger stack than he had secured on Friday. Covington ended the session with 350,500 chips, good for fifth place and 140 big blinds. Mark Stein was the chip leader for the session at 441,500 chips.
Covington Proving He's More than Just a Fighter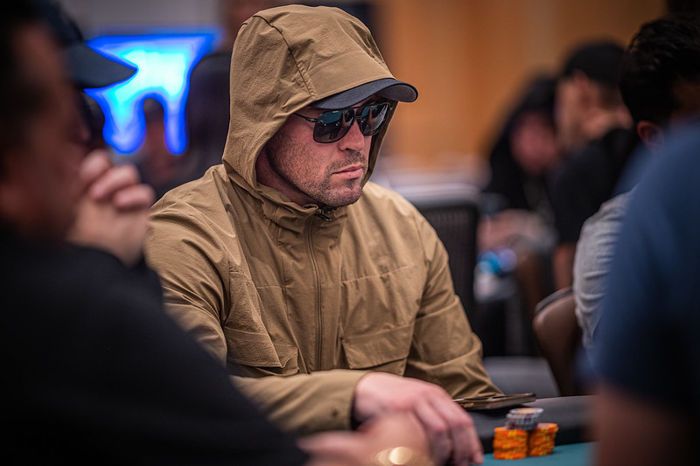 On the final hand of the night at around 11 p.m. in Tampa, Covington, who went on quite a heater late in the day to finish strong, had trip aces and faced a large river bet against Mark Davis. He eventually made the difficult but correct decision to fold and his opponent showed him a full house.
Davis, the $1 million winner at the WPT Seminole Hard Rock Poker Showdown in May, is a skilled player, of which Covington acknowledged. That played a role in why he chose to fold.
"The dynamic was that it was the last hand of the night, so I knew (Davis) was looking to put a bag in because he didn't have a bag already," Covington explained of why he folded. "So, when I opened to 4,500 under the gun, I was thinking he had pair type hands, so he's calling at the end of the night, I thought he probably had a good hand where he could flop a great hand. When the ace -seven-deuce flop came and I continued, and he three-bet my continuation, it's so straightforward that I probably had an ace right there, and the fact that the turn is the ace and he's firing hard on the turn and the river, he's three-barreling down, I just don't think there's ever a bluff in that range."
Although he has more experience in mixed martial arts — he's considered a top contender and has a 17-3 UFC record — the professional fighter has shown in recent months that he's also a skilled poker player. So, it shouldn't come as a surprise that he's capable of making wise decisions on the felt.
In August, hey won his first live poker tournament, a $25,875 score in a Seminole Hard Rock Hollywood (Florida) pot-limit Omaha/8 event. His overall live tournament results are above $150,000, according to Hendon Mob, and he could put a serious dent in that number this week in Tampa. First place is set to pay $615,500 at the conclusion of the final table on Wednesday.
"I see myself playing poker for the rest of my life," Covington said of his passion for the game. "I love the competitive nature of the game, and I still feel like it's a fight. It's a mental warfare fight and there's a lot of adrenaline that's involved, just like you've been in a fight. I love poker, the competitive nature , and I want to mark my name in poker history, so I'm going to keep coming back out here to prove people wrong."
Davis Still Sitting Pretty
Although Davis didn't get paid off on the river with a full house against Covington, he's still in excellent shape heading into Day 2, which begins at noon ET on Sunday. The WPT Champions Club member has a healthy stack of 252,500 chips, exactly 101 big blinds.
There are many other big name pros who bagged and tagged on Day 1b, including the current WPT Player of the Year leader, Ray Qartomyfresh off back-to-back final table appearances.
Qartomy took second place just two days ago in the WPT Legends of Poker in Los Angeles, a $380,000 score. Joshua Pollock won the iconic World Poker Tour event for $573,350.
Speaking of WPT Player of the Year, the defending champion, Jake Ferroalso finished Day 1b with an impressive stack (387,000), third best behind As long as (390,000), and Stone (441,500). David Farberseeking his first WPT final table appearance, sits in fourth place (364,500).
Some other notables to advance to Day 2 from Saturday's session include David Jackson (230,000), Alex Foxen (170,000), Matt Affleck (165,000), Jennifer Shahade (135,000), Martin Zamani (65,000), and Allen Kessler (45,000).
Impossible Turnout
The WPT staff anticipated a large field, especially over Labor Day Weekend. So, when registration closed and 1,165 entries had paid the $3,500 buy-in, creating a $3,728,000 prize pool that completely obliterated the $1 million guarantee, no one was surprised, except for the fact that it was, oddly enough, the exact same turnout as the first ever WPT Seminole Hard Rock Tampa in 2021.
Just one year earlier, Brian Altmanwho has three WPT titles in the state of Florida, won this very same event, beating out the same field of 1,165 entrants. Altman, to the surprise of no one who has watched the WPT in recent years, finished the Day 1a session with a sizable stack of 266,000 chips.
The odds of a large field event matching the entrants exactly from a year earlier are impossible to calculate, but they aren't high, that's for sure. There are 418 players remaining and the money bubble will likely burst before Day 2 concludes.
Check out the WPT Hub on PokerNews here!
Photos courtesy of Drew Amato/WPT