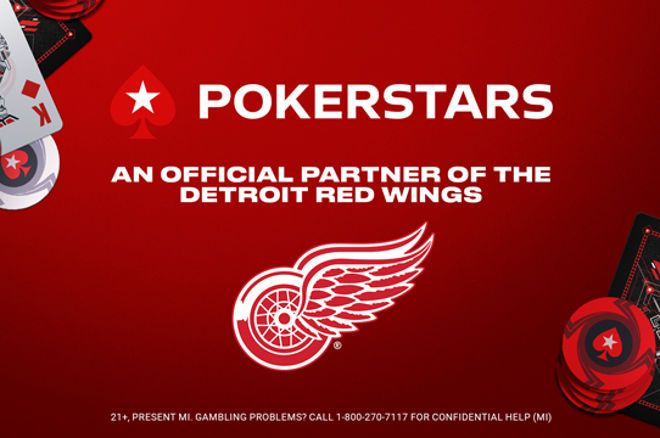 PokerStars has become an official partner of the NHL's Detroit Red Wingsand it should bolster the online poker industry in Michigan.
The multi-year deal was disclosed in a press release from the world's largest online poker site. PokerStars first launched in the Wolverine State in Jan 2021and is now tapping into the massive hockey fan demographic in the state.
More than Just an Online Poker Sponsor
The partnership between the poker site and one of the oldest NHL hockey teams is more than just a label. Players on PokerStars Michigan will have an opportunity to win some valuable Red Wings prizes such as signed memorabilia, merchandise, game tickets, and more.
Red Wings loyalists will begin to notice the iconic Winged Wheel, an NHL staple, placed all over PokerStars MI marketing materials and on the PokerStars website.
"We are extremely proud and excited to build a long-term relationship with such an iconic NHL team as the Red Wings," said Severin Rasset, PokerStars US Managing Director. "Through this partnership, we look forward to delivering epic experiences for our PokerStars community, expanding on what we can offer our Michigan based players, as well as those across the rest of the US."
"This is a partnership that our fans, especially poker players, will really enjoy," said Chris McGowan, President & CEO of Ilitch Sports + Entertainment. "It's great to see PokerStars' branding on the ice-level at Little Caesars Arena, and we're very appreciative of their support."
The Red Wings have improved this year following a disappointing 2021-2022 season. They're back in Stanley Cup Playoffs contention and will be a difficult opponent in the Eastern Conference as the season progresses. Now is as good of a time as any for PokerStars to dip into the passionate Red Wings fan base, which is one of the most loyal and hardcore bunches in the entire NHL.
Hockey and poker are two favorite past-time among Michiganders. Hence why this partnership makes sense. The PokerStars brand has been an industry leader for 20 years.
Michigan became the fifth US state to legalize and regulate online poker in 2021. PokerStars was quick to jump into the market, knowing full well that the state has a large base of passionate poker players. Since 2009, two players from Michigan — Joe Cada other Ryan Riess — have won the World Series of Poker Main Event, the most prestigious live poker tournament in the world.