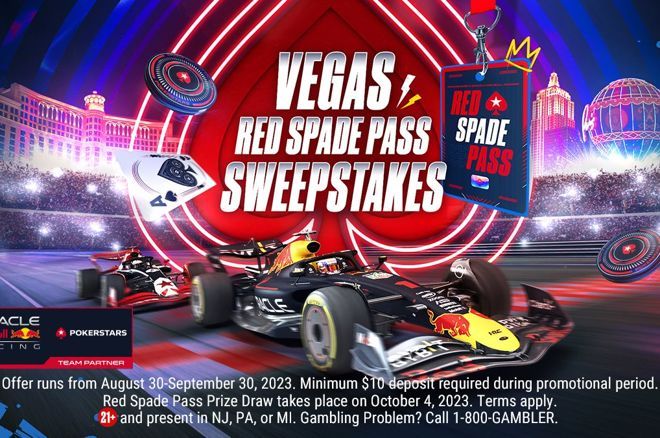 The Formula 1 race in Las Vegas will be huge, and PokerStars USA From now until the end of September, all players have the chance to win a free trip to take part in the celebrations.
online poker players in Michigan, New JerseyAnd Pennsylvania are eligible to enter the PokerStars Red Spade Pass competition for free simply by registering on the poker site. There will be one lucky winner in each of the three states where PokerStars operates.
How to win a free dream trip to Las Vegas
Any player who registers for the Ultimate Fan Experience contest for free will receive one entry into a raffle taking place on October 4th. Winners will be announced shortly thereafter and will receive a trip to Las Vegas Oracle Red Bull Racing November 14th for perhaps the greatest Formula 1 race of all time.
If you spent time in Las Vegas during the summer World Series of Poker (WSOP), You've probably noticed heavy traffic due to construction on the Strip. This construction was intended to prepare the roads for a race that will draw thousands of visitors to southern Nevada to watch a race that will cost many thousands of dollars. But if you're one of the three lucky winners, it won't cost you a penny.
There are several ways to get extra entries to increase your chances of winning. When you make your first deposit at the US poker site, you first add 10 additional entries. Each additional deposit of at least $10 is worth another entry. The more registrations you collect, the better your chances of winning a dream vacation.
Sweepstakes winners will receive round-trip airfare, hotel transfers and five nights' accommodation at the Paris Las VegasHome of the World Series of Poker.
Big things are happening at PokerStars US
The Red Spade Pass competition is just one part of the big events taking place at PokerStars in all three licensed US states. PokerNews was busy covering it live PokerStars Summer Series at Live! Casino and Hotel Philadelphiathe first live PokerStars event in the US in quite some time.
Earlier this week, the online poker giant also announced the long-awaited return of the North American Poker Tour (NAPT)which will make its first appearance since 2011. The first NAPT return series will take place at Resorts World in Las Vegas beginning November 4th.