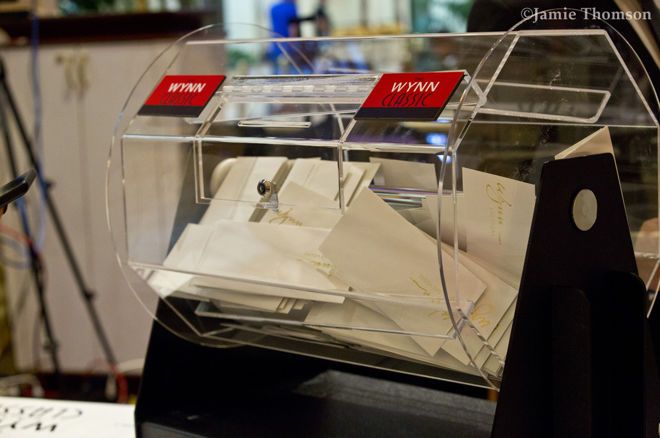 the Wynn Millions series is back!
The month-long festival kicked off on February 21 and will run through March 20. There have already been several winners crowned including Gabriel Jin Gohwho topped a 323-entry field to win the opening $400 No-Limit Hold'em Event for $17,000.
Similarly, Wesley Gronhovd bested a 140-entry field to win the $400 Limit Omaha 8/B $25K GTD for $11,961, while Ray Teasdale prevailed in a 261-entry field to win the $400 NLH $40K GTD for $22,753.
One of the first tournaments on the schedule marks the return of the popular and unique Mystery Bountya $1,600 buy-in no-limit hold'em tournament with a surprise bounty hidden inside an envelope after busting another player.
That tournament kicks off today and guarantees at least $1.5 million in total prize money. Day 1a will take place at Noon on Thursday, February 24, with Days 1b and 1c taking place at the same time on Friday and Saturday respectively. The surviving players from each flight will then return to play down to a winner on Sunday's Day 2, which is when the mystery bounties take effect and PokerNews will begin our live updates.
Follow Wynn Mystery Bounty Updates Here!
Here's a look at some things to expect throughout the 2022 Wynn Millions, especially during the $10,000 buy-in, $10 million GTD Wynn Million that'll run from March 3-11.
Expect Poker's Biggest Names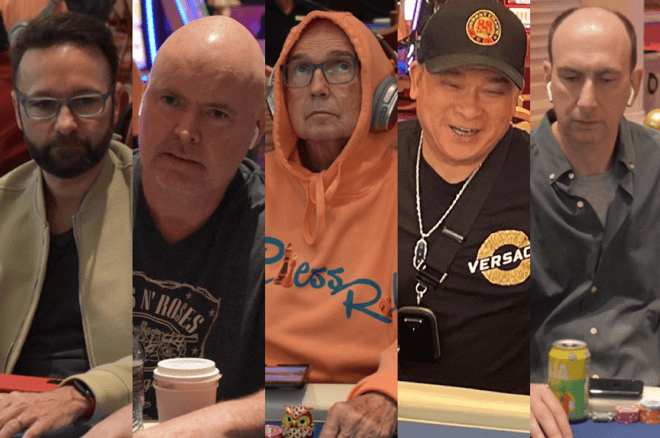 If 2021 was any indication, there will be no shortage of star power at the Wynn Millions. The biggest names in poker took a shot in the inaugural event, and that was especially true on Day 1c of last year's tournament when five Poker Hall of Famers bagged and tagged.
They included Daniel Negreanu, Johnny Chan, Eric Seidel, Jack McClellandand John Hennigan. They were joined by other big names including Anthony Zinno, Maria Ho, Phil Laakand Jean Robert Bellande.
It's not every day you see players like Negreanu venture outside PokerGO Studio, or JRB take a break from the high-stakes cash games, but the Wynn Millions proved to be a big draw.
The PokerGO Tour recently partnered with Wynn to offer five high roller tournaments during the Wynn Millions, so it's likely that many of the players above, as well as the other usual high roller suspects, will find their way to the series.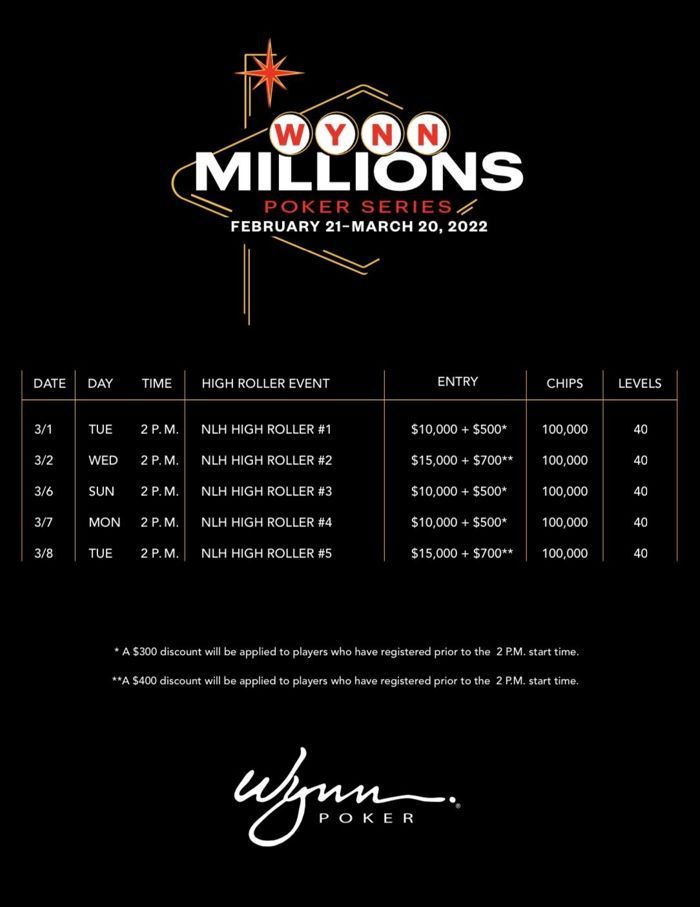 Big Hands and Fast Action
Last year's Wynn Millions wasn't short on big hands; in fact, arguably our "Live Reported Hand of the Year" came from tournament updates of the $10,000,000 GTD event. It was dubbed the Wynn Millions Massacre and it was a doozy.
To set the stage, the 2021 Wynn Millions attracted 1,328 entries over three starting flights, which surpassed the seven-figure guarantee by creating a $12,483,200 prize pool (the largest in Wynn Poker history).
On Day 2ab, 240 players returned to action with Bryn Kenney as the chip leader. meanwhile, Alex Foxen had the seventh-largest stack, and eventually, the latter was moved to the former's table before a collision occurred.
At the time, Foxen had chipped up into the chip lead ever so slightly over Kenney, who appeared to still be the other big stack in the room. The hand took place early in Level 12 (1,500/2,500/2,500) when Kenney raised preflop and Foxen called from the hijack. The players on the button and in the big blind came along and it was four-way action to the
flop
The big blind checked, Kenney continued for 9,000, and only Foxen called to see the turn, which was another
. Kenney bet again, this time 10,000, and Foxen just called to see a
complete the board on the river.
This time Kenney checked and Foxen over-bet the pot to the tune of 112,000. Kenney woke up with an all-in check-raise to approximately 240,000, and Foxen, who barely had the bigger stack, snap-called. Kenney tabled
for aces full of queens, but it was no good as Foxen rolled over
for quads.
With that, Kenney was eliminated while Foxen pulled in the largest pot of the tournament up to that point.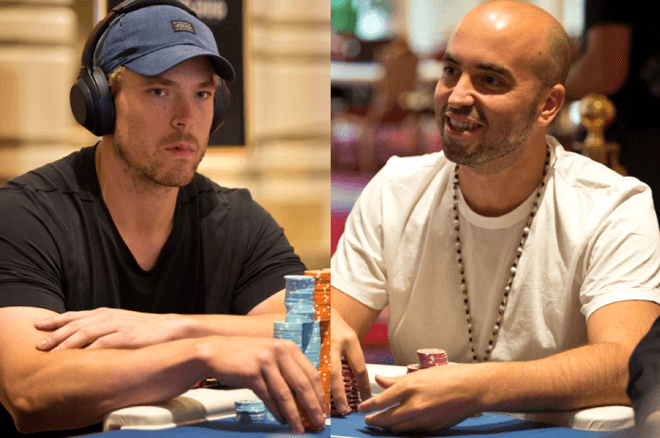 There were many other big hands including Ari angel winning with a straight flush over straight flush, and several big ones played by Andrew Moreno on his way to topping the 1,328-entry field to win the tournament for $1,460,106 in prize money.
See Moreno's Biggest Wynn Millions hands here!
New hardware for the winner
Trophies for Wynn Classic tournaments are among the best in the industry, but it's safe to say that Wynn Director of Poker Operations Ryan Beauregardwho recently appeared on an episode of thePokerNews Podcast, outdid himself for the 2022 Wynn Millions.
The winner of the tournament will receive which is hands down the Wynn's most impressive trophy to date. Don't believe us? Check out the sneak peek they released on social media:
We've upgraded the hardware for this year's Wynn Millions Main Event Champion! On display now at Wynn Poker! https://t.co/05GbRsNmQs
What's in Store for the 2022 Wynn Millions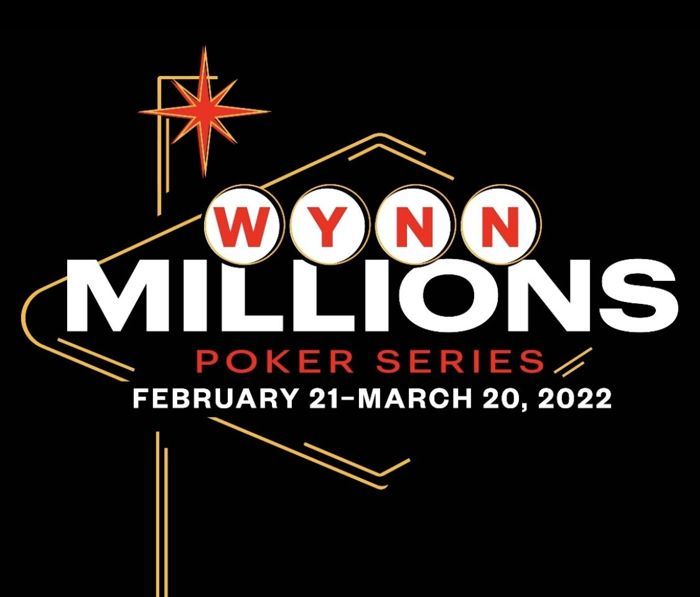 In total, the Wynn Millions winter poker series features 16 events with more than $15 million in prize money to be awarded. There's a tournament for just about any type of poker player — high stakes, mid-stakes, no-limit hold'em, pot-limit Omaha, bounty events, etc. And there are two seniors events for players aged 50 and above — $400 and $1,100.
That includes the 2nd annual $10,000 buy-in, $10 million GTD Wynn Millions, which will begin on March 3. PokerNews will provide daily live updates throughout the entirety of that tournament.
It won't be the only event during the series that promises to surpass $1 million. In fact, two other tournaments during Wynn Millions will crack the seven-figure mark, and a third ($1,100 No-Limit Hold'em) guarantees at least $500,000.
2022 Wynn Millions Schedule
| Date(s) | buy in | tournament | Guarantee |
| --- | --- | --- | --- |
| 2/21 | $400 | No Limit Hold'em | $40,000 |
| 2/22 | $400 | Limit Omaha 8/B | $25,000 |
| 2/22 | $400 | No Limit Hold'em | $40,000 |
| 2/23 | $400 | Seniors (50+) NLH | $40,000 |
| 2/24-2/27 | $1,600 | Mystery BountyNLH | $1,500,000 |
| 2/28-2/29 | $1,100 | Seniors (50+) NLH | $100,000 |
| 3/1 | $400 | Pot Limit Omaha | $25,000 |
| 3/3-3/11 | $10,000 | Wynn Millions Main Event | $10,000,000 |
| 3/8-3/9 | $1,600 | PLO/NLH mix | $100,000 |
| 3/9-3/10 | $3,000 | 6-Max No Limit Hold'em | $200,000 |
| 3/10-3/11 | $3,000 | $1K Bounty No Limit Hold'em | $200,000 |
| 3/11-3/14 | $3,500 | No Limit Hold'em | $2,000,000 |
| 3/13 | $5,200 | NLH Progressive Bounty | $250,000 |
| 3/14-3/16 | $400 | No Limit Hold'em | $100,000 |
| 3/16 | $400 | No Limit Hold'em | $40,000 |
| 3/17-3/20 | $1,000 | No Limit Hold'em | $500,000 |
| 3/20 | $550 | No Limit Hold'em | $50,000 |
See all Wynn Millions tournament structures here!
PokerNews will post end-of-day chip counts for each starting flight of the 2022 Wynn Millions $1,600 Mystery Bounty and then pick up live coverage on Sunday. In addition, we will offer live updates from the following events.
| dates | tournament | buy in |
| --- | --- | --- |
| February 27, 2022 | $1,600 Mystery Bounty [$1,500,000 GTD] | Buy in: $1,600 |
| March 03-11, 2022 | $10,000 Main Event [$10,000,000 GTD] | Buy in: $10,000 |
| March 08-09, 2022 | $1,600 PLO/NLH [$100,000 GTD] | Buy in: $1,600 |
| March 09-10, 2022 | $3,000 6 Max NLH [$200,000 GTD] | Buy in: $3,000 |
| March 10-11, 2022 | $3,000 $1k bounty [$200,000 GTD] | Buy in: $3,000 |
Here's a highlight video of the Wynn Mystery Bounty event from last Fall: