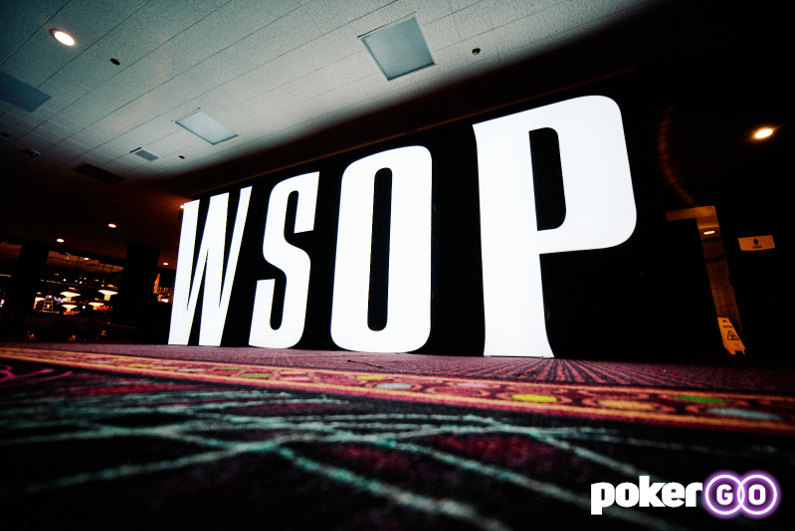 After 900 players entered Day 1A of the 2022 WSOP Main Event, poker players and fans alike are excited this could threaten the record for the largest Main Event of all time. [Image: PokerGO.com]
Main Event starts its two-week trek
Time to catch up with some of the goings-on at the 2022 World Series of Poker over the weekend, shall we? The $10,000 WSOP Main Event, the tournament the poker world anxiously awaits each year, began on Sunday with the first of four starting flights. Typically the smallest starting flight, Day 1A came in at 900 entries. It's not a mind-blowing figure, but it's a good start, and if the numbers climb, as they normally do, the 2022 WSOP Main Event could threaten the record of 8,773 players, set in 2006.
it is rare to see a Day 1 chip leader stay at or near the top
Cedric Trevino is the chip leader of the 631 Day 1A survivors, with 317,800 chips. One other player, Wesley Fei, finished with at least 300,000, and he is at that mark exactly. It is rare to see a Day 1 chip leader stay at or near the top as the Main Event goes on, but it is certainly a better spot to be in that at the bottom or out of the tournament altogether.
The next three Day 1s will run Monday-Wednesday. After that, the players who make it through Day 1A and 1B will play in their respective Day 2A and 2B on Thursday, July 7. Similarly, the survivors from Day 1C and 1D will play Day 1C and 1D on Friday, July 8. Everyone who gets past Day 2 will combine for Day 3 on Saturday, July 9.
After several more days of action, the 2022 WSOP Main Event final table will be determined on Wednesday, July 13. July 14 is a day off for the nine remaining players. The final table begins on Friday, July 15 and will play from nine players down to four. Those four will play down to the champion on Saturday, July 16.
David Jackson tops Phil Hellmuth to win second bracelet
It is always news at the World Series of Poker when Phil Hellmuth makes a final table (and he has made 70 of them), as it means he has a chance to extend his record of 16 WSOP bracelets. He came agonizing close this weekend to his 17th, but was denied in Event #65: $3,000 Freezeout No-Limit Hold'em, where David Jackson defeated him heads-up for the title.
Jackson entered heads-up play with more than a 4-to-1 chip advantage, but Hellmuth quickly doubled-up a couple times to bring the chip counts just about even. It didn't take long, however, for Jackson to pull away again. On the final hand, the chips got into the middle pre-flop, Jackson with KJ of clubs and Hellmuth with A-7 of hearts. The flop came down T-4-T and the turn a 9, giving Jackson a straight draw in addition to his other outs. A Queen on the river cemented the straight for Jackson and he had his second career WSOP bracelet.
I knew I was going to win. I felt like it was meant for me."
Afterward, Jackson told WSOP.com that this one meant more than his first, as that one came last year in an online event. Not only was this tournament about three times the size, but Jackson considered it to be a tougher field.
Jackson had all the confidence in the world at the final table. "I was just in my zone, honestly. I felt like I was going to win. I knew I was going to win. I felt like it was meant for me."
That's not how a pair works
With so many hands dealt, so many decks of cards used, and so many dealers at the World Series of Poker, it is inevitable that there will be some misdeals. But on Sunday, players at one table during the $1,000 Million Dollar Bounty No-Limit Hold'em saw something that they did not expect: two of the same card on the flop.
It was not just a pair on the flop – it was two of the exact same card, the 3 of Spades. This isn't the first time something like this has happened, but it is certainly notable at the WSOP. With thousands of decks being used, it is always possible that errors in the manufacturing/packaging process slipped through. The decks are supposed to be inspected before being put into play, but it seems that this one was not.
A similar incident happened last week at the Golden Nugget during the PokerNews Cup. In this case, a joker showed up on the flop. Seeing as this wasn't a Joker's Wild home game, it was most definitely a surprise.
Naturally, the hand was declared dead and chips were returned to players.