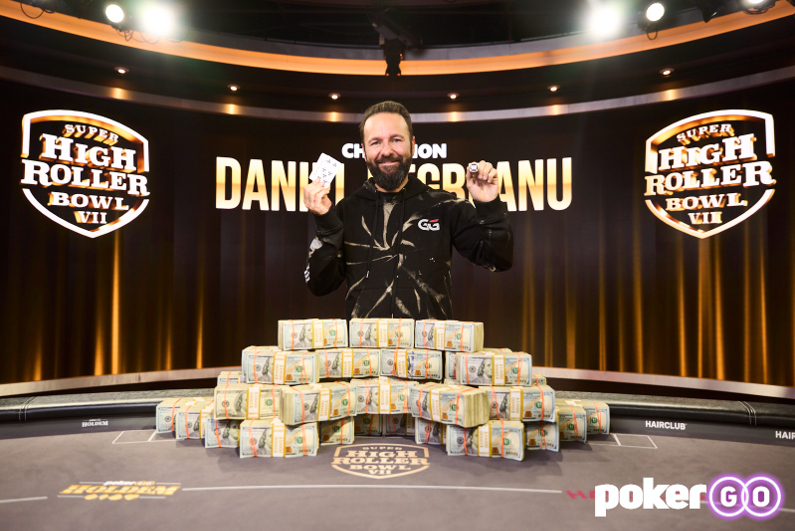 In 2022, Daniel Negreanu won $4,875,609 on total tournament buy-ins of $3,224,564 for a profit of $1,625,545. [Image: PokerGO.com]
$3.2m in total buy-ins
Throughout his poker career, Daniel Negreanu has been one of the more transparent players around, rarely shy about letting his feelings be known about any number of subjects. That transparency has extended to his annual tournament results, as at the close of each year, he posts his final financial figures. The Poker Hall of Famer continued the tradition this week, revealing that he profited $1,625,545 in 2022.
Across 107 events, Negreanu bought in for a total of $3,224,564, or a $30,136 average buy-in. He did clarify for one of his Twitter followers that "events" means individual tournaments, not entries – he does not have a record of how many re-entries he had, how many times he re-bought into a tournament. Thus, while he clearly focused on higher buy-in events, the average advertised buy-in of the events in which he played is lower than his average.
Negreanu scored cashes of $4,875,609 in total, hence his final profit figure. He also clarified in a follow-up tweet that these numbers only take into account the actual tournament results and do not factor in expenses, taxes, swaps with other players, or selling of any action.
Super High Roller Bowl win was key
The tournament that took Negreanu over the top was the $300,000 buy-in No-Limit Hold'em Super High Roller Bowl (SHRB) this fall, which he won for $3,312,000. And while that was by far his largest cash of the year, it wasn't his only 2022 highlight.
Daniel Negreanu had success on the PokerGO Tour, in particular, which included the SHRB. Early in the year, he had multiple six-figure cashes on the tour, including two in the PokerGO Cup ($350,000 and $112,000) and one at the Wynn High Rollers ($216,000).
In 2021, Negreanu won an event in the PokerGO Cup for his first open tournament victory since 2013. It was an almost incomprehensible dry spell for someone with over $43m in tournament earnings to that point. He now has just shy of $50m in winnings.
Negreanu also finished out the year with a couple nice cashes (let's be honest, for most of us a cash of any amount is very nice – this is all relative). In November, he finished 4th in the €25,000 ($25,045) No-Limit Hold'em Platinum High Roller event at the World Series of Poker Europe for €146,370 ($146,090 at the time). And just a couple of weeks ago, he finished 17th at the hugely successful WPT World Championship for $176,200.
You take the good, you take the bad….
While most people appreciate Daniel Negreanu's openness with his tournament financial results, not everyone was ready to give him a standing ovation. Poker pro Allen Kessler, known as a tournament min-cash artist, replied: "But what do the results look like without the super high roller win?"
Negreanu quipped back: "So you want to just not count the one I won but count all the ones I didn't? Is that how it's done now? lol"
illustrates how "volatile a year could be"
A couple other replies to Negreanu's results post were similar to Kessler's, but to his credit, Kessler did soften his perceived criticism, responding to Negreanu that the big $3m+ win just illustrates how "volatile a year could be." He added an example from last year when Negreanu finished third in a $50,000 WSOP event, where a card or two might have made the difference of "Hundreds of thousands and a bracelet."
Negreanu provided another example from the WPT World Championship, concluding: "In the end, it's all part of it and over time if you play well you will end up on the right side of it."