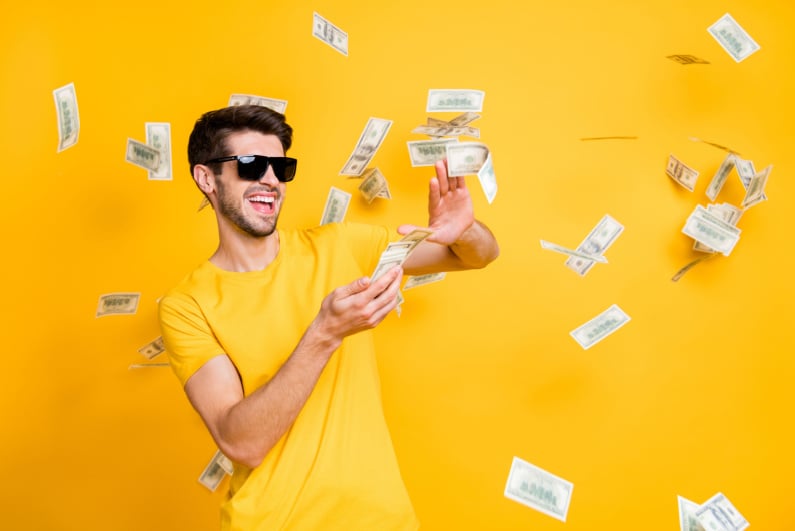 Thomas Evans Zanot won a massive $6.4m Pai Gow progressive jackpot at the Flamingo in Las Vegas on Sunday. [Image: Shutterstock.com]
A life-changing win
A poker player in Las Vegas has hit the biggest Pai Gow progressive jackpot of all time. Thomas Evans Zanot won the $6.4m jackpot on Saturday night at the Flamingo casino resort from a stake of just $5.
It will be hard to beat this as one of the biggest casino jackpot wins of any kind in Las Vegas this year. The Caesars Entertainment-owned Flamingo tweeted a picture of Zanot with his oversized jackpot check:
An experienced winner
An avid poker player, Zanot is originally from Arizona. According to the Hendon Mob database, he has cashed for more than $1.1m in live tournament poker play. It appears that he focuses on playing events that have low to medium-sized stakes. Just last month, he won $99,600 for finishing 33approx in the WPT World Championship at Wynn Las Vegas.
Talking about his big Pai Gow jackpot win on Twitter, Zanot explained that he had lost about $375 over the 11 or so hours of playing before he won the jackpot. A picture posted by an onlooker on Twitter shows the hand that ultimately Zanot won the life-changing sum (the casino later rearranged the hand for the photo-op):
A popular poker variant
In Pai Gow, the joker counts as part of a straight. In Zanot's case, it replaced the king card. To win the biggest possible Pai Gow progressive jackpot, a player needs to make a side bet and then get a seven-card straight flush. The chances of getting a seven-card straight flush are very low, hence why the size of the jackpots for those who accomplish the feat tend to be so big.
People hit major Pai Gow progressive jackpots from time to time in Las Vegas. The other most recent notable win was in October when a player won a $3.5m jackpot at the Harrah's casino resort.
Pai Gow poker is a game that players play against the house, with each person dealing seven cards. After a draw, players choose a low hand with two cards and a high hand with five cards in an attempt to beat the dealer's hand. Casinos often offer side bets as part of Pai Gow poker hands, such as the one that saw Zanot win a progressive jackpot.