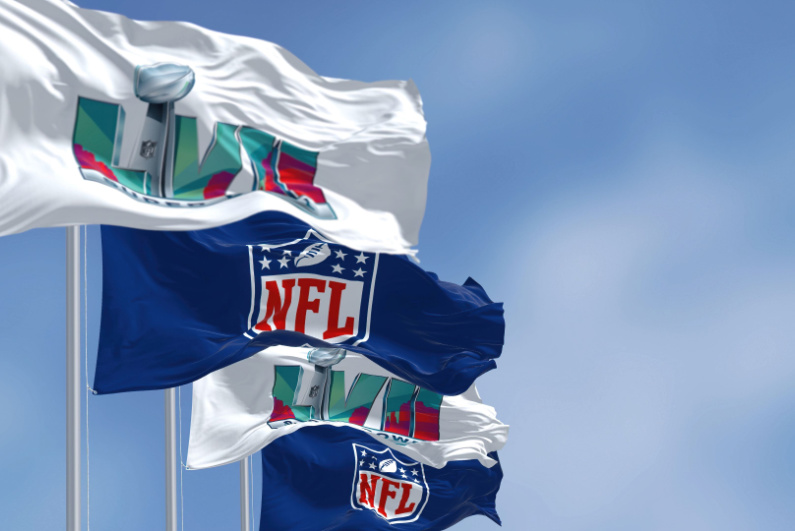 The upcoming Super Bowl could help determine the future of sports betting in several high-profile states. [Image: Shutterstock.com]
Super Bowl to drive sports betting
Widespread sports betting in the United States, in its four-and-a-half-year lifespan, has proven to be an inevitability. Sportsbooks have launched in 31 states and are due to appear in another five, live commentators read betting odds during games, and media giants now air gambling-dedicated shows.
The crown jewel in American sports betting is the Super Bowl. One would assume that states would assemble their sports betting markets in the best fashion in anticipation of the Super Bowl, but that has proven to be untrue in recent years.
is it possible that states will have their hands forced into passing legislation
With five of the top ten favorites to reach this year's Super Bowl hailing from states without legal sports betting, is it possible that states will have their hands forced into passing legislation they have opposed thus far?
Taking center stage
The Super Bowl regularly produces eye-watering numbers for viewership and fan participation.
The American Gaming Association estimated that Americans would bet $7.6bn on the Super Bowl in 2022a-near 80% increase from Super Bowl LV in 2021. Many states later reported record totals for daily and monthly betting totals thanks to the big game.
Two states absent from the record-breaking festivities were California and Ohio, each of which had a representative in the game. California also hosted the Super Bowl at SoFi Stadium, leading them to miss out on what could have been the biggest payday in sports betting history.
through October 2022, sports betting in America produced $69.5bn in handle
Even without several of America's biggest states, both in terms of population and financial clout, including California, Texas, and Florida, sports betting has grown to colossal heights. Through October 2022, sports betting in America produced $69.5bn in handle, including $5.4bn in revenue and $1.2bn in state taxes.
Several states have drafted and passed legalization since the most recent championship bout in February, but there are still a few notable absentees that could face the brunt of the consequences in just a few months.
Local pressure based on team performance
As noted earlier, five of the ten favorites to make the Super Bowl are from states without legal sports betting markets. This includes the San Francisco 49ers (California), Kansas City Chiefs (Missouri), Tampa Bay Buccaneers (Florida), Dallas Cowboys (Texas), and Miami Dolphins (Florida).
According to Sports Handle, California bettors could have wagered as much as $300m on the previous Super Bowl, and both California and Ohio could have combined to bet over $400m on the game between the Los Angeles Rams and Cincinnati Bengals. That would have led to $21m in revenue for California operators and $2.1m in taxes for the state.
This year's Super Bowl may not be in California like last year's was, but it is in nearby Arizona and will surely attract a pack of California travelers. The 49ers also have more local fans than the Rams, which could have driven a larger turnout in sports books.
the most-watched regular-season football game ever
The Dolphins and Cowboys also come from influential areas of the country. The latter specifically is a ratings darling, having just combined with the New York Giants on Thanksgiving to produce the most-watched regular-season football game ever.
The Chiefs are somewhat buried in the Midwest, but they are one of the most exciting and popular teams in the league. They are also hamstrung by Missouri's laws preventing sports books from accepting wagers, while other midwestern states have recently passed or proposed legalization efforts.
It is too much to expect states to fully base their sports betting future on the weight of the Super Bowl, but it is not an understatement to say that they could face immense pressure based on what this year's game produces.