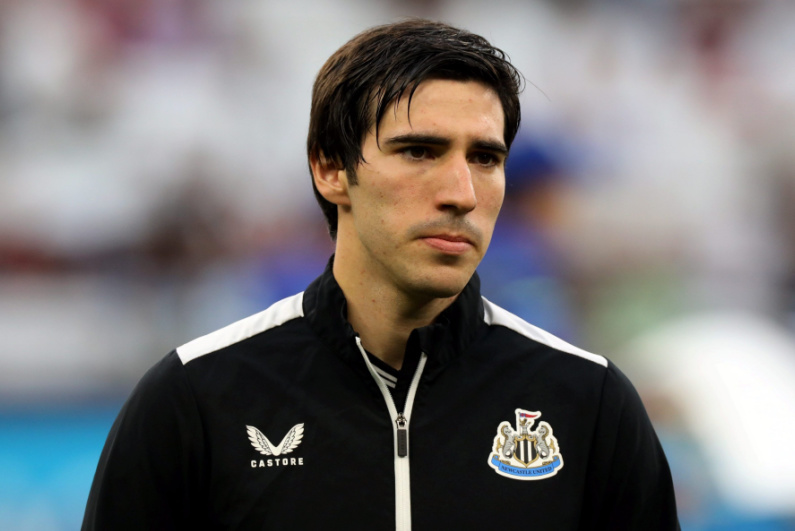 Newcastle United's Sandro Tonali is reportedly facing a 10-month ban for betting violations. The club is reportedly considering legal action against AC Milan. [Image: Shutterstock.com]
Not happy
The saga of the most expensive Italian football player of all time continues. In recent weeks, revelations about Sandro Tonali have come to light. The 23-year-old admitted placing bets on his own team before games.
He reportedly faces a 10-month ban from the sport
He is reportedly facing a 10-month ban from the sport, meaning he will not be able to play for his club Newcastle United for the remainder of the English Premier League season. The Lodi native will also have to complete extensive therapy during his suspension.
The club only bought Tonali from AC Milan for €70 million in July and rumors began circulating that his former team knew about the betting violations before accepting the offer. Corriere dello Sport reported that Newcastle United may file a lawsuit as a result of this possible revelation. The Milan club vehemently denied having any knowledge of the matter before selling the player.
In the air
Newcastle manager Eddie Howe spoke about protecting his player when news of the betting breaches first broke. The team will reportedly freeze the salaries of Tonali, who is said to have an annual salary of £7 million ($8.5 million).
Tonali has played 15 games for the Italian national team and will miss Euro 2024 due to the expected suspension from the team's qualification.
Even if Tonali is suspended on Wednesday, he will still be able to play in the Champions League against Borussia Dortmund at St. James' Park that evening as the suspension does not come into effect until the next day. It is unclear whether the team will decide to send the midfielder on the field due to the high-profile nature of the scandal.
A far-reaching scandal
Other players implicated in the betting scandal include Juventus midfielder Nicolo Fagioli and Nicolò Zaniolo, who is currently on loan at Aston Villa from Galatasaray. Fagioli has already received a seven-month ban from sports and will receive some leniency for cooperating with authorities and committing to a comprehensive treatment plan.
The Italian federation has very strict rules for players who commit betting offenses, with those who fail to cooperate potentially facing a ban of up to three years.
He can continue to train with his team and the club continues to pay him his salary. Fagioli's doctor warned that it is statistically likely that other players currently placing bets on games are suffering from an addiction. The investigation into Zaniolo is ongoing and he is still playing for Aston Villa as he awaits his fate against West Ham United on Sunday.