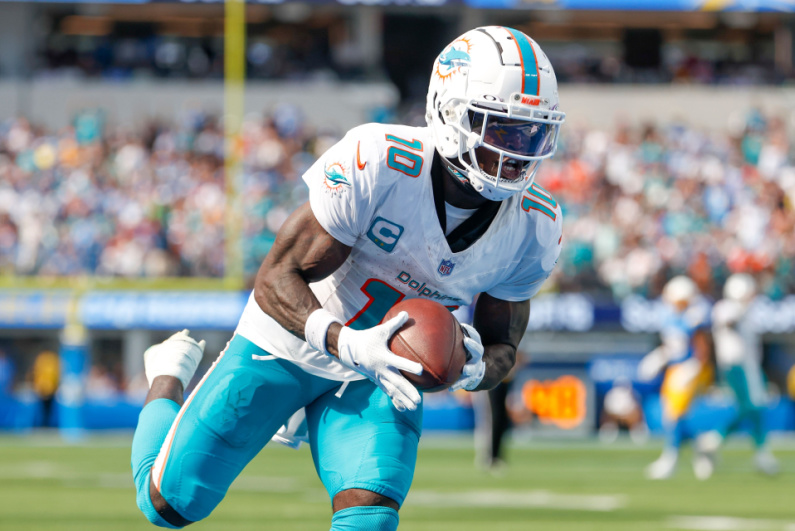 A wide receiver deserves to win the MVP for the first time in NFL history. [Image: Shutterstock.com]
The NFL MVP odds are… wrong
It's hard to win NFL MVP. Only 57 of the tens of thousands who graced the field managed to win the award.
But as hard as it is to earn the NFL's Most Valuable Player award, it's just as hard to do so as a non-quarterback or running back. No offensive player outside of those two positions has ever claimed this honor, and only three defensive/special teams players have been so fortunate.
There are a few wide receivers who have made history or are on their way to making history
Patrick Mahomes and Tua Tagovailoa, two quarterbacks, are considered the absolute favorites to win the NFL MVP title for the 2023 season. But the simple fact is that no QB or RB has separated from the field or done anything unprecedented while there are a few There are wide receivers who have either made history or are well on their way to making history.
Allow us to explain not why a wide receiver should win his first NFL MVP, but why it would be a crime if he didn't.
Who brought these guys here?
Let's take a quick look at the top of the board. Tua leads the NFL with 302 passing yards per game, 18 touchdowns and seven interceptions. As strong as his numbers are, the prevailing opinion is that he is bolstered by the collection of quick and excellent weapons around him, as well as the genius of coach Mike McDaniel.
The Miami Dolphins are also 0-2 against winning teams and could be 0-3 after this weekend when they face the Kansas City Chiefs as two-point underdogs.
Speaking of Chiefs: According to the oddsmakers, Mahomes is the next contender for the trophy. Despite being second in QBR, he is on pace to set a career low in yards per game and a career high in interceptions.
Lamar Jackson is also at the top of the ratings list, but is 17th in passing yards per game
Jalen Hurts is doing well, but he's also on pace for a career high in picks and is only sixth in QBR. Lamar Jackson is also at the top of the ratings list, but ranks 17th in passing yards per game and is on pace to throw for half of the touchdowns he managed when he won the award in 2019 . He is also 13th in QBR.
The only running back even close to the MVP conversation is Christian McCaffrey. He leads the league with 652 rushing yards and another 292 receiving yards and has scored at least one touchdown in every game. However, he has averaged just 48.3 yards and no more than 54 yards in the last four weeks and is battling an injury that appears to have dashed his MVP hopes.
So who REALLY deserves NFL MVP? We would like to introduce you to our two main candidates.
Honor the recipients
Tyreek Hill fights his way out of the teal corner. The 5-10 speedster recently became the first player in the Super Bowl era to record more than 1,000 yards receiving in eight games and is averaging 126.8 yards per game. He also scored eight touchdowns and at least one in every game but one.
Hill is on pace to rush for 2,154.8 yards and 17 touchdowns and break Calvin Johnson's single-season rushing record of 1,964 yards. And for the purists out there, his 16-game pace still puts him at 2,028 yards, well over Megatron's record.
The Dolphins occupy the top spot in the AFC East and lead the league in points scored, and Hill is their main catalyst.
Apparently the oddsmakers have only just caught on to Hill's historic season. His DraftKings MVP odds recently rose to +2,000, but are still in seventh place.
Also worth mentioning is Philadelphia Eagles wideout AJ Brown. Last week, he became the first receiver in league history to record more than 125 yards receiving in six consecutive games, averaging 138.5 yards per game during that time. His 939 yards and five touchdowns also put him on pace to break Johnson's single-season record of 1,995.4 yards to go and 11 touchdowns.
The Eagles also have the best record in the NFL at 7-1 and have a chance to reach their second Super Bowl in as many years.
Browns MVP odds? +5000. 14th-Best.
This is a good time to award NFL MVP to a wide receiver. No one came as close as Jerry Rice (second) in 1987, but given the hackneyed QB play and the ridiculous level these wideouts achieved, it's time to give them flowers.