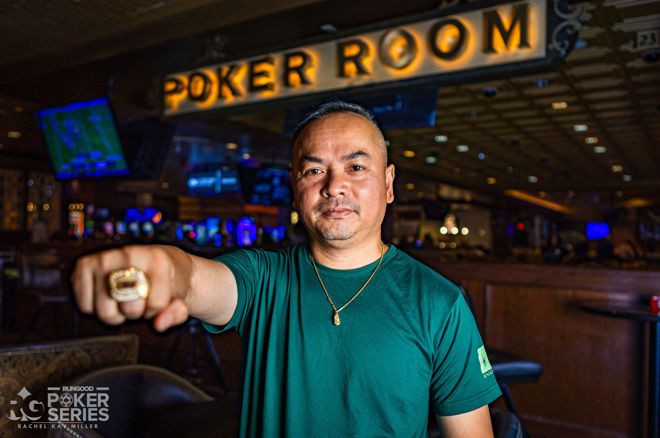 The biggest RunGood Poker Series Main Event A total of 718 participants formed a huge prize pool $373,360, so that a total of 88 places can be paid out. This $600 Main Event is the biggest RGPS Main Event ever The Horseshoe Casino and Hotel in Tunica.
It started with a star-studded final table held on-site in Tunica Loi Hoang He ended up winning the tournament with a career-best total of $55,394 and his first RGPS Main Event title. Hoang enjoyed great success this week after making a total of four side events to the final table leading up to this event.
Relive the RPGS Tunica Main Event updates
"I think I played my game," the newly crowned champion remarked. "I took my time, got a bit lucky and boom." Hoang flaunted his emotions at the final table today, jumping for joy as things went his way and every ladder came into focus.
He prevailed against a star-studded field that included the former champion Tiffany KeathleyWSOPC ring winner Shannon Hamblen And Matthew Higginsand 2003 WSOP Main Event Champion Chris Moneymaker which he KO'd with four hands. Hoang will now become the first RGPS Main Event champion on the road trip leg of the tour.
RunGood Poker Series Tunica Main Event Final Table Results
| Location | Surname | country | Price |
| --- | --- | --- | --- |
| 1 | Loi Hoang | United States | $55,394* |
| 2 | Wayne Newcomb | United States | $55,394* |
| 3 | Matthew Higgins | United States | $32,856 |
| 4 | Chris Moneymaker | United States | $24,455 |
| 5 | Stuart Breakstone | United States | $18,444 |
| 6 | Rebekah Crosby | United States | $14,076 |
| 7 | Tiffany Keathley | United States | $10,827 |
| 8th | Shannon Hamblen | United States | $8,475 |
| 9 | Dawson Darbouze | Haiti | $6,683 |
*Denotes a heads-up deal
Summary of the last day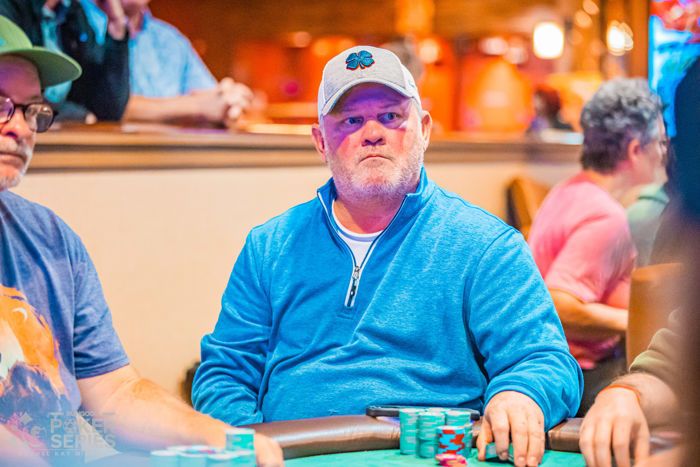 When we started the day with 88 players, the pace was very high at the beginning Brian "TheGoldenBlazer"Frenzel (85th – $1,008) was eliminated immediately (looking to win another event, which put him at the top of the all-time RGPS ring list and second in RGPS overall titles).
Others liked to fall during the day Emily Bergland (71st – $1,157), Trace Henderson (59th – $1,269), defending champion KevinBroadway (39th – $1,829), WSOP bracelet winner Kyle Cartwright (34th – $1,829), WPT Champion Mark Davis (30th – $2,128), forest checks (18th – $2,950) and Joey Gargiulo (12th – $5,339).
It was boiling at the final table David Lee after opposing it in his pocket sixes Matthew Higgins' Pocket nines. This made Higgins the second-biggest stack in the tournament, while Lee left the tournament in 10th place for $6,683.
Final Table Action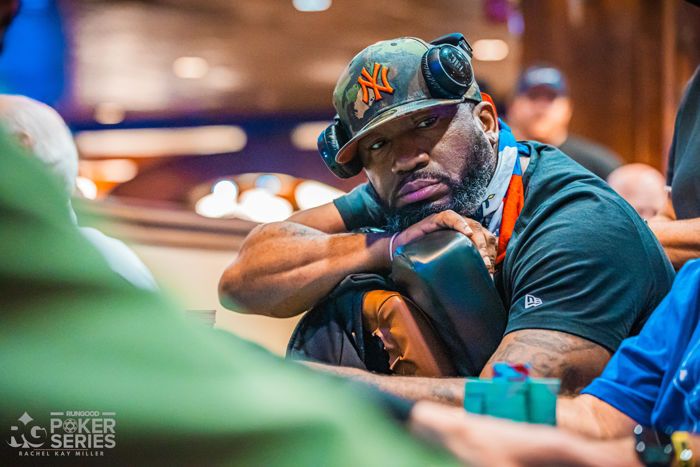 Wayne Newcomb came into the final table with a big stack but quickly lost a few pots Chris Moneymaker and Higgins to relegate him to third place. He would retake the lead if he came into conflict with him Dawson Darbouze, who moved all in with ace-queen on a queen-high board, only for Newcomb to hold queen-nine for the top two. Darbouze was unhelped and became the first loser at the final table, pocketing $6,683 for ninth place.
Shannon Hamblen had initially attempted to advance the final table from nine to eight Stuart Breakstone came into play with his ace-queen against Hamblen's ace-king, but a straight on the river brought the pot to breakstone, leaving Hamblen shortest. With Darbouze eliminated, Hamblen was next on the chopping block when he was almost forced all in from the big blind with queen-ten and failed to improve against Moneymaker's ace-four. The WSOPC ring winner exited the tournament in eighth place and received $8,475 for his efforts.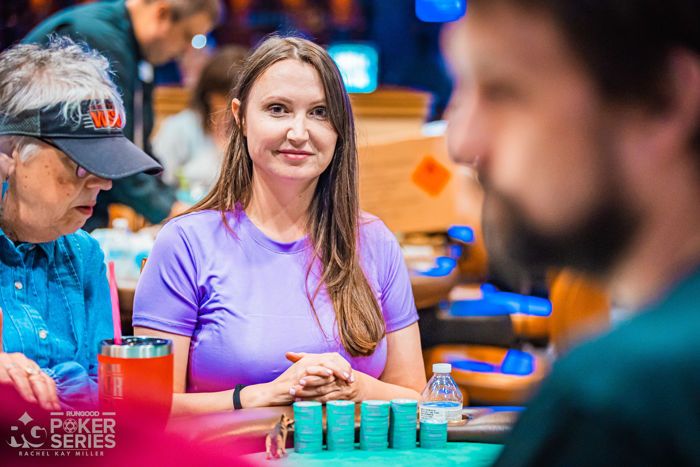 The last former RGPS Tunica Main Event winner finished her run in seventh place. Tiffany Keathley came to the final table as shortest stack in her bid to become a two-time RGPS Tunica Champion. Her run ended when she reached her last few blinds with ace-eight suit versus Matthew Higgins' seven-six suit. Higgins converted a straight and left her draw dead, and Keathley took home $10,827 on her impressive run.
Rebekah Crosby was the last woman standing after Keathley was eliminated, but with her stack so short her time to go all-in was near. Before the big blind reached her, she posted her last few blinds with five-three of a kind, which Moneymaker described as holding ace-six out of suit. Although a straight draw/flush draw combo was flopped, she failed, and Crosby raked in $14,076 for her sixth-place exit as the last woman standing.
Breakstone's run was ended by Hoang. Breakstone moved all in for a nearly identical short stack with jack-eight, Hoang called with king-seven and nearly doubled. Breakstone shook hands with his peers and took home $18,444 for fifth place.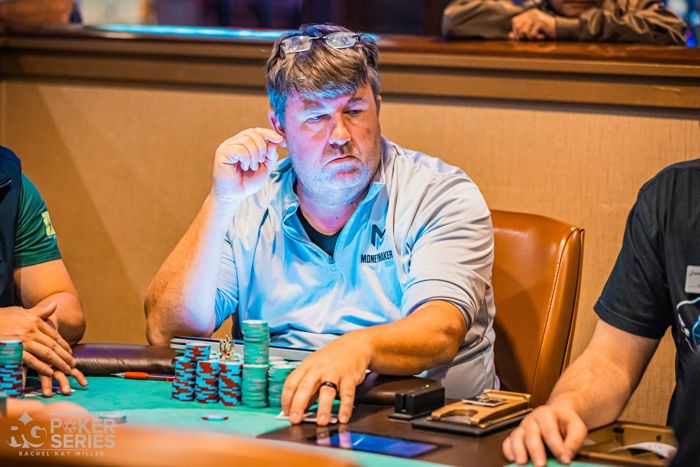 Moneymaker came into four-handed play as the chip leader, but clashed with Hoang on several hands, causing him to fall down to the shortest stack in the countdown. The first time his nines failed against Hoang's ace-king, on the second river Moneymaker hit three queens against Hoang's full house, and on Moneymaker's final hand he busted against Hoang's flush. The 2003 WSOP Main Event champion and poker world icon finished fourth and cashed $24,455 for his best RGPS Main Event result to date.
Higgins and Newcomb had roughly even stacks, while Hoang held the massive chip lead early in the three-handed game. Newcomb raised with ace-eight offsuit on the button, while Higgins moved all in with ace-ten offsuit and received a call from Newcomb. Everything seemed set for Higgins to play heads up, holding the tight cover stack, but a brutal eight on the river gave Newcomb the pot, while the next hand Higgins was forced all in from the small blind. His eight-three suit couldn't hold up against Newcomb's five-four offsuit, and the four-time WSOPC ringwinner finished his run for $32,856.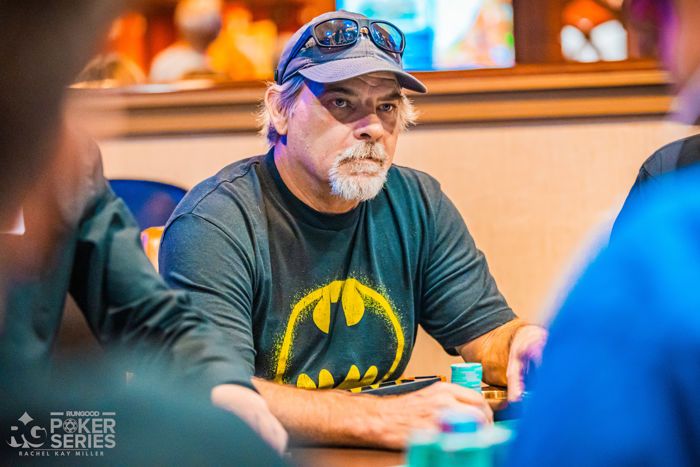 When there were only two players left, they agreed. They would make an even chop, but since Hoang held the slight chip lead, he would get both the ring and the seat. Newcomb accepted the deal and raised $55,394 for his efforts while Hoang became the newest champion of the RunGood Poker Series.
Stay tuned PokerNews for all updates on the RunGood Poker Series Road Trip. The first-ever RGPS Baltimore kicks off next weekend with a $1,100 Main Event and a $200,000 guarantee.