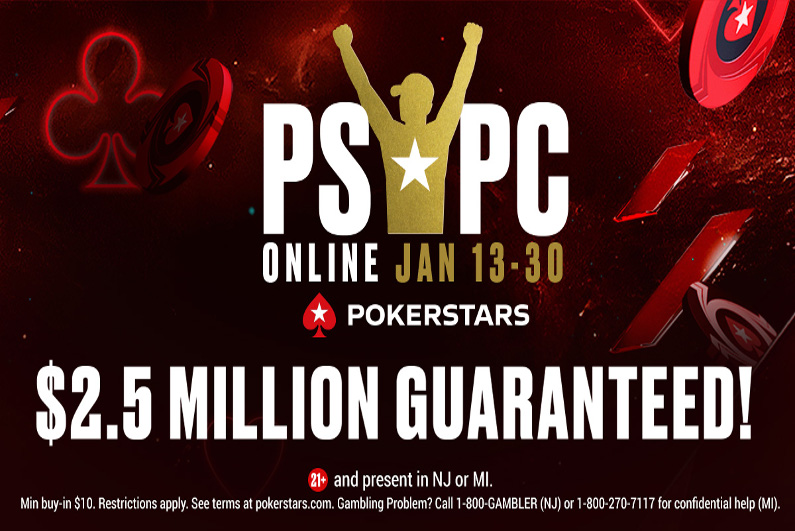 The PSPC Online, running January 13-30, is PokerStars' first multi-state online poker tournament series for players in Michigan and New Jersey. [Image: PokerStars.com]
One for Michigan/New Jersey, one for Pennsylvania
This week, PokerStars' very first multi-state online poker tournament series will kick off for players in Michigan and New Jersey. Running January 13-30, the "PSPC Online" will consist of 85 events and feature $2.5m in guaranteed prize pools.
"takes inspiration" from the hyped event
Despite the name, it does not appear that the series awards any tickets to the PokerStars Players Championship coming up at the end of the month in the Bahamas, but rather just "takes inspiration" from the hyped event. The PSPC Online Main Event buy-in is $250 – one one-hundredth that of the live PSPC price tag – and has a $300,000 guarantee. There are also the $50 buy-in Mini Main Event and $2,500 High Roller Main Event; all three "Main Events" combine for $500,000 in guaranteed prize pools.
PokerStars players in Pennsylvania have their own PSPC Online, as their state has yet to share player liquidity with Michigan and New Jersey. The Keystone State's series has 72 events and $1.5 million in total guarantees.
Successful debut for PokerStars' US network
PokerStars combined the player pools of its Michigan and New Jersey sites on January 1, 2023, making it just the second interstate online poker network in the United States. The network celebrated the momentous occasion in US poker history by hosting two special multi-state tournaments: a $100 buy-in event with a $100,000 guaranteed prize pool and a $10 tournament with $50,000 guaranteed.
the $100 tournament more than doubled its guarantee, drawing 2,189 entries
Both tournaments drew enough players to beat the guarantees. The $10 event just eeked by, attracting 6,378 entries to generate a prize pool of $58,039.80, while the $100 tournament more than doubled its guarantee, drawing 2,189 entries to build a $200,950.20 prize pool.
"It was brilliant to see our communities in Michigan and New Jersey come out in force on January 1st to celebrate the combining of our player pool and enjoy our special New Year's Day events and smash the guarantees," said PokerStars US managing director Severin Rasset in the PSPC announcement.
"We're now excited to bring players our first multi-state online series and our largest online series to date in the US…There's plenty more to come for the MI and NJ community and we look forward to exciting and awarding our players in 2023 and beyond," he added
US online poker market still small
PokerStars was able to create its interstate online poker network thanks to the Multi-State Internet Gaming Agreement (MSIGA). While states are free to legalize online poker, they still must form compacts to allow for cross-border play. Delaware and Nevada started MSIGA and were later joined by New Jersey, but that's all there was for years. It wasn't until May 2022 that Michigan finally hopped on board.
WSOP/888 have poker rooms in Delaware, Nevada, and New Jersey. Nevada and New Jersey have WSOP.com, which allows them to combine for World Series of Poker online bracelet events, while the three racino-based sites in Delaware only use the 888 platform and are not WSOP-branded, meaning they still share liquidity with the other states, just not for WSOP-specific events.
Both WSOP.com and BetMGM have online poker rooms in Michigan, as well, but have yet to link them to their counterparts in other MSIGA member states. BetMGM has reportedly been upgrading its software in anticipation of future liquidity sharing. Michigan players did have their own WSOP online bracelet events in 2022, so it would be surprising if WSOP.com wasn't able to finally merge the player pool with the others by the time the WSOP rolls around in 2023, a full year after Michigan joined MSIGA.