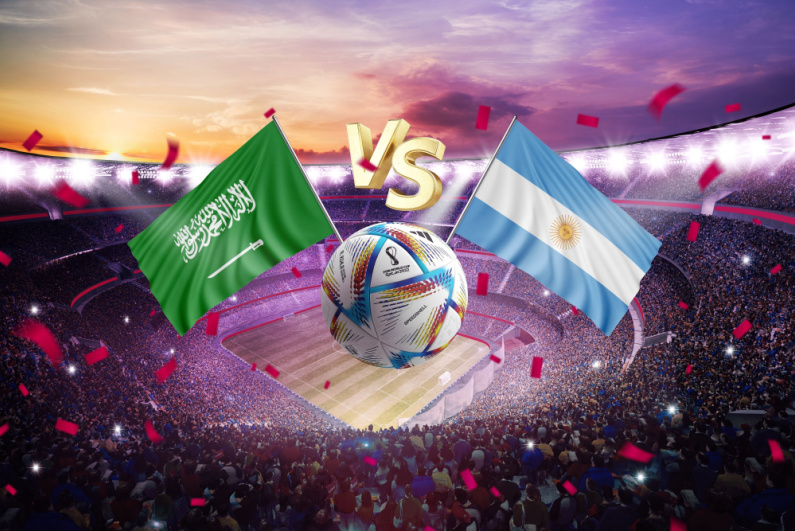 Saudi Arabia defeated Argentina 2-1 Tuesday in the biggest-ever World Cup upset. [Image: Shutterstock.com]
Saudi Arabia upsets Argentina
Saudi Arabia defeated Argentina 2-1 in both teams' opening match of the Group Stage Tuesday, marking the biggest upset in World Cup history.
+1800 to win outright and then dropped to +5000 at halftime
It only took three days of matches for World Cup lore to change forever. At kickoff, the Saudis were a staggering +1800 to win outright and then dropped to +5000 at halftime.
The Argentines trailed only Brazil in oddsmakers' pre-tournament rankings and have now fallen to one of the biggest long shots in the tournament. They are still the favorites to win Group C, but they are much closer to the pack, while Saudi Arabia closed the distance significantly.
World Cup mayhem
To say that public support was on the side of Argentina would be an understatement. The favorites had not lost a World Cup match during which it was ahead at halftime in 92 years, and 35-year-old captain Lionel Messi has a transfer value over twice that of the entire Saudi Arabia squad, per Transfermarkt.
The match stats and final score paint two different pictures. Argentina out-possessed its opponent 69%-31% and registered 15 shots (six on target) to just three (two on target).
Messi opened the scoring by converting a penalty kick in the 10th minute to put his team up 1-0. Then, shortly into the second half, a defensive lapse by Argentina led to Saudi Arabia's first goal, and winger Salem Al-Dawsari conjured the eventual winner in the 53rd minute with a moment of individual brilliance.
The Saudis were forced to withstand an attacking onslaught for 40+ minutes after netting their second, but they held firm and ultimately walked out of Lusail Iconic Stadium with three points.
The oddsmakers still have them as the least likely to qualify from Group C, with Mexico and Poland readying to take the pitch for the first time Tuesday afternoon, but they have already accumulated the second-most points in a Group Stage in their country's history and most since 1992.
A window of opportunity
Tuesday's loss was Argentina's first since 2019 and in 36 matches. Not only has the power dynamic in Group C changed drastically, but the country's long-term future in the competition looks much bleaker than it did 24 hours ago.
second seed is likely to face France in the first round of the knockout
If any of the other teams can capitalize on the dropped points, they could force Argentina to qualify as the second seed in Group C, if at all. The second seed is likely to face France in the first round of the knockout, which would present a serious problem for any country.
Messi previously said that his toughest opponents in the tournament would be England, Brazil, and France. He obviously did not account for Saudi Arabia when compiling his list.
The shocking result not only has serious implications for the group standings, but it is yet another win for Saudi Arabia in its push to increase its influence in soccer. Nine of the 11 Saudi starters play for Al Hilal SFC, the perennial top team in Saudi Arabia's Saudi Pro League, which could bring more eyes to the league, but beyond that, it partially validates the Saudi Public Investment Fund's controversial takeover of English Premier League club Newcastle United.
The takeover was viewed as "inorganic" and against the nature of the sport, but If Saudi Arabia can demonstrate a renewed commitment to developing a more competitive and complete soccer culture, many of these claims will fall on deaf ears.
As it stands, the odds to win Group C as follows, according to FanDuel:
Argentina: +175
Mexico: +280
Poland: +280
Saudi Arabia: +350